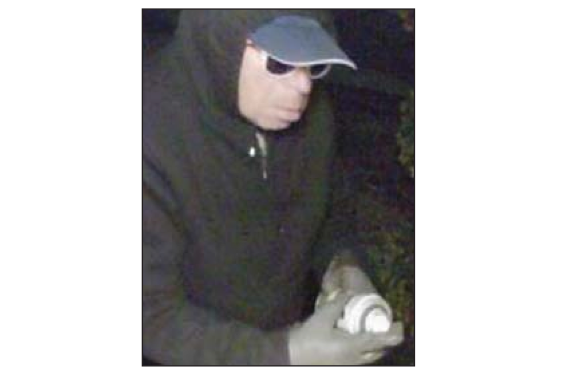 BY ALLISON LEVITSKY
Daily Post Staff Writer
A vandal was caught on spray-painting and stealing Mountain View City Council candidate John Inks' campaign signs at a house on Church Street.
Around 3:40 a.m. yesterday (Oct. 19), a supporter's porch surveillance camera captured a light-skinned man in a black hooded sweatshirt, blue baseball cap, sunglasses and gloves spraying over an old campaign sign on her front door and stealing a second sign from her lawn.
Inks, a Libertarian, was one of the few city leaders who opposed Measure V, Mountain View's rent control law that was passed with 53.6% of the vote in November 2016.
The house is on the 100 block of Church Street, at Calderon Avenue. Police told Inks he could send the video to them as evidence.
The incident was the fourth time vandalism to Inks' signs has been reported to police since last month, when a sign was stolen a day after it was posted at a home on the 1000 block of Villa Street, between Oak and Franklin streets.
Around 6:35 p.m. on Thursday, police Lt. Saul Jaeger passed an Inks sign at Shoreline Boulevard and Montecito Avenue and discovered that someone had used black spray paint to cover Inks' name and the office for which he's running.
The paint went onto a sheet of plastic Inks' campaign had used to cover the sign, expecting vandalism.
"The people taking care of the signs are using preventive methods to preserve the signs by covering the sign itself with a plastic sheet," Inks said.
That way, when someone spray paints the sign, the sign stays intact underneath because the plastic can be removed and replaced.
A 4-foot-by-4-foot Inks sign that cost about $200 was vandalized with black spray-paint at South Shore- line Boulevard and Church Street in early September. That $200 sign wasn't covered in plastic, Inks said, so there wasn't a way to clean it without destroying the sign.