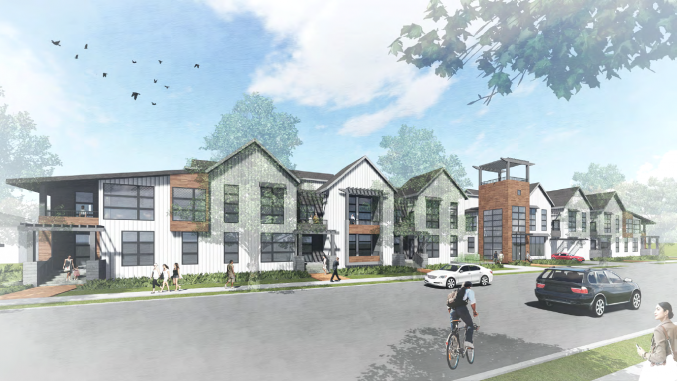 BY ALLISON LEVITSKY
Daily Post Staff Writer
The developer of a new five-story luxury apartment complex proposed in Mountain View would pour $3.1 million into separate below-market-rate housing projects, under a proposal that has the support of City Council.
The developer, Prometheus Real Estate Group, would provide the cash before building the project in order to avoid a requirement that it set aside 15% of the 226 apartments for low-income residents.
The pre-funding, when combined with tax credits, could result in three to four times as many affordable units outside of the complex, according to Candace Gonzalez, president of affordable housing developer Palo Alto Housing Corp. Mountain View City Council voiced support for the Prometheus's project at 1696-1758 Villa St. in a non-voting study session on Tuesday night (Dec. 5).
The 226-unit complex would include 17 studio apartments, 137 one-bedrooms, 70 two-bedrooms and three three-bedrooms and amenities including a pool, yoga room, gym and lounge.
"I think a minimum of 15% here makes sense," Councilman Chris Clark said of the affordable unit allocation.
Palo Alto Housing, which is currently constructing a development at 1701 El Camino Real and developing at least three more potential projects, would use the funds to develop affordable housing.
"If we can get three times more units, to me, that's a lot and I think it's totally worthwhile to allow for this pre-funding," Councilwoman Margaret Abe-Koga said.
Councilwoman Lisa Matichak disagreed.
"My preference would be to have all of the affordable units on site," Matichak said. "I think it's a better experience for everyone."
With tax credits and other funding sources in addition to the money from Prometheus, Palo Alto Housing could build three to four times the 34 units that would result from 15% of the Prometheus project.
With Prometheus' funding and tax credits, Palo Alto Housing could build another 240 units outside of the project at 1701 El Camino Real, Palo Alto Housing President Candace Gonzalez said.
Palo Alto Housing also provides wraparound services to residents, including English language classes, homework clubs and tutoring services for kids, and courses on health and wellness, financial literacy, job skills training and resume building.
The building is proposed to be constructed on a known Environmental Protection Agency Superfund site, though Vice Mayor Lenny Siegel said the areas of concern had migrated off the site and the agency had downgraded the risk.
The design of the project has also shrunk down from 240 units and seen aesthetic changes since Prometheus last brought it to council. It now has a more traditional residential appearance, with gables and pitched roofs.