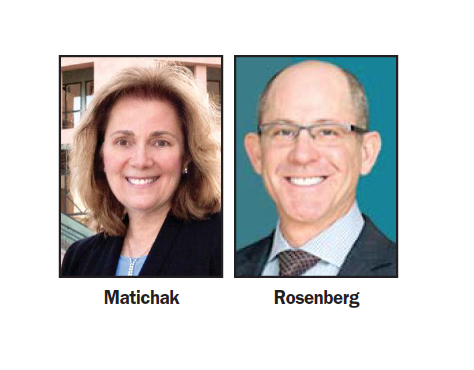 CORRECTION: This story has been edited to say that Mountain View City Council directed city officials to write an ordinance banning RV parking for consideration this fall, which could go into effect on Jan. 1. No RV ban is currently on the books.
BY ALLISON LEVITSKY
Daily Post Staff Writer
Mountain View Mayor Lisa Matichak appeared on the NPR show "Here and Now" to defend the City Council's decision to consider an ordinance banning RV parking in an interview that former Mayor Ken Rosenberg later said was "Matichak's version of 'Let them eat cake.'"
"We're not criminalizing poverty. We are addressing parking throughout the city to address the safety and health concerns," Matichak told "Here and Now" in a nearly six-minute interview that aired Thursday (June 20). "A lot of the oversized vehicles are parked in the bicycle lanes."
Rosenberg criticized the interview in a mass email to Mountain View housing advocates Friday morning.
Council voted after midnight on June 12 to set into motion a future ban on RVs and other oversized vehicles parking on city streets between 2 a.m. and 6 a.m. The ban hasn't been approved, but council said it wanted to consider such an ordinance this fall.
The ACLU sent the city a letter last month claiming the forthcoming ban was unconstitutional, but Matichak told NPR that parking regulations were within the city's constitutional rights.
When asked whether the ban would push RV dwellers into neighboring cities, Matichak said she couldn't say.
"I can't really speak to what folks might do. I think they have lots of different options," Matichak said. "There might be some that go to other cities, but there might be some that decide to go into more stable housing or move out of the area. There's lots of different choices for folks."
Matichak noted that city officials had been "asking folks for years" to engage with caseworkers in order to find more stable housing.
"There are some people who have engaged, and it's good that we've had success with over 100 families being moved into more stable housing," Matichak said. "We need others that are not engaging with the caseworkers to work with them."
She said that while some people live in vehicles in Mountain View because they have nowhere else to go locally, that some car campers "do have other options that they can move into immediately."
The ban is set to go into effect Jan. 1, once the city has opened two parking lots that would accommodate 60 RVs. The city last counted 171 RVs parked on Mountain View streets.
Those parking lots will require occupants to register and engage with social services caseworkers.
The city attorney will be told to come back in March or April with an update on the impacts of the ban, which would allow council to consider adopting a 24/7 ban on RV parking on city streets starting July 1, 2020.
Matichak said on the NPR show that she is in favor of a 24-hour ban.
She went on to challenge the city's major employers to open their parking lots to employees who live in vehicles, but stopped short of singling out Google. Matichak demurred when asked whether tech companies were doing enough to solve the housing crisis.
"I certainly appreciate what the tech companies are doing. I think this is a partnership that everyone needs to participate in, and I appreciate the recent actions that Google took," Matichak said, referring to the $1 billion Google pledged to invest in housing across the Bay Area on Tuesday.
Only a fraction of the local news stories covered by the Daily Post appear on this website. To get all the local news, including many stories you can't find online, pick up the Post every morning at 1,000 Mid-Peninsula locations.