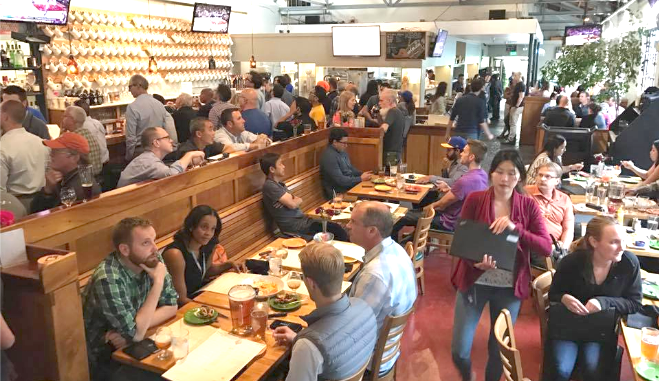 Above, dinnertime at the Tied House in Mountain View. Photo from the Tied House Facebook page.
BY EMILY MIBACH
Daily Post Staff Writer
Residents at a Mountain View City Council meeting last night (Nov. 28) expressed alarm at over a four-story office project that would replace two beloved establishments in the city's downtown, Chez TJ and Tied House, but the project nonetheless got a boost from the City Council.
Four of the seven council members said they supported moving the historic Victorian house that is home to the Michelin-star rated Chez TJ, at 938 Villa St. about a block away to 1012 Dana St.
The Tied House, which opened in 1988, will be replaced by a new restaurant that will take up 2,922-square-feet of the 41,876-square-foot building, which aside from the restaurant, would be office space.
While council supported moving the Chez TJ house and putting a new building where the two restaurants stand, a number of residents at the meeting said they were worried that the demolition of two recognizable buildings will change downtown Mountain View.
"We're on the verge of the downtown becoming a faceless office park that could be any (city)," said Jean McCloskey.
Residents against the project also cited concerns stemming from the large office project at 900 Villa St., where developers said there would be a part of the project open to the public, but that never happened.
Losing the culture
"I've watched the change over the years and I feel that we're losing the culture, history and walkability of our town," said resident Ellen Scherer.
Other residents, such as Deb Henigson, are in favor of the relocation of the Chez TJ house, but want to see a more creative building at the site, perhaps with housing.
Vice Mayor Lenny Siegel said he wanted to see housing in the new building, saying there is more of a need for homes in the area.
Moving the house
Seigel, along with council members Chris Clark, Margret Abe-Koga and Pat Showalter, all said they'd like to move the Chez TJ house, which was built in 1894 by Julius and Fanny Weilheimer. Julius Weilheimer was a vice president of the Mountain View Farmers and Merchant's Bank and a town council member.
The owner of Chez TJ, George Aviet and owners of Tied House, Ron Manabe and Lou Jemison, have teamed up with developer Dan Minkoff, to come up with plans for the office and restaurant building.
Jemison said last night that with the new building, it would grant a larger space for a restaurant and gastropub that would replace the Tied House.
No plan was discussed last night as to what will happen to Chez TJ. While the Chez TJ house will be saved and moved nearby, it will be converted back into a home and likely placed on a historical resources list, and the Tied House would be demolished.