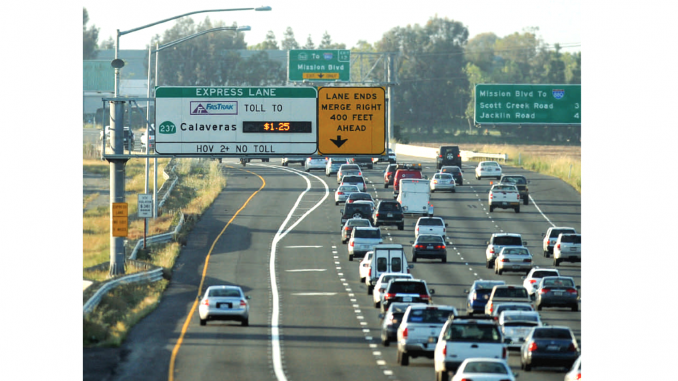 BY ALLISON LEVITSKY
Daily Post Staff Writer
Foster City Council has come out against the idea of putting toll lanes on Highway 101 — and it's in good company, with Mountain View Mayor Lenny Siegel and San Mateo County Supervisor David Canepa sharing that view.
Caltrans and the San Mateo County Transit Authority are considering adding the lanes to the far left lanes on 101 in both directions from Rengstorff Avenue in Mountain View to the Interstate 380 interchange in South San Francisco.
Toll lanes, or as Caltrans calls them "managed lanes," would be free to carpoolers but could also be used by solo drivers who pay a toll. They would be charged the toll with the aid of a transponder mounted above the rearview mirrow, where Fastrak transponders are now mounted.
In a letter sent Wednesday (Aug. 15) to Caltrans, the San Mateo County Board of Supervisors and the San Mateo County City/County Association of Governments, Mayor Sam Hindi wrote that council doesn't want to see the agency allow single-occupancy vehicles to pay to use express lanes.
"Creating more capacity for (single-occupancy vehicles) via express lanes will not take cars off the highway nor reduce greenhouse gas emissions," Hindi wrote. "We should strive to get more people into fewer vehicles as they commute. A toll lane does not accomplish this objective."
Hurting the poor
In addition, Hindi said charging to drive in fast lanes would further burden poor residents whose housing costs have continued to rise.
"The highways are public and funded by all taxpayers. Charging the same toll rate, regardless of economic status, will have a greater impact on low-income individuals," Hindi wrote. "This is especially significant given the higher housing costs in San Mateo County. More Bay Area families are required to utilize more of their take-home pay for housing, leaving less for other essentials, including transportation."
Hindi suggested that Caltrans accommodate more high-capacity vehicles in additional carpool lanes instead.
The letter was sent as part of Caltrans' recently closed public comment process on the draft environmental impact report of its Highway 101 Managed Lanes Project.
Last month, County Supervisor Canepa said he didn't see why Caltrans didn't just do a carpool lane, rather than an express lane.
Carpool lanes not attracting enough cars
On Aug. 1, Caltrans spokesman Jeff Weiss said carpool lanes don't attract enough cars to reduce traffic congestion. Canepa derided the plan as a "money grab."
Siegel, the Mountain View mayor, sent a letter to Caltrans about the toll lanes, saying the project would slam Mountain View with traffic from all of the solo drivers. He's concerned the toll lanes may entice tech workers to pay to drive in express lanes rather than take the bus.
Half-billion cost to install toll lanes
The toll lanes would cost about $534 million to install, according to Caltrans.
The county would get about $45 million in gross revenues, but between predicted uncollected tolls, people using the lanes as carpool lanes (and not having to pay) and maintenance, the county should only expect between $9.7 million and $20.5 million a year, according to a presentation given to the city/county association of governments on July 12.