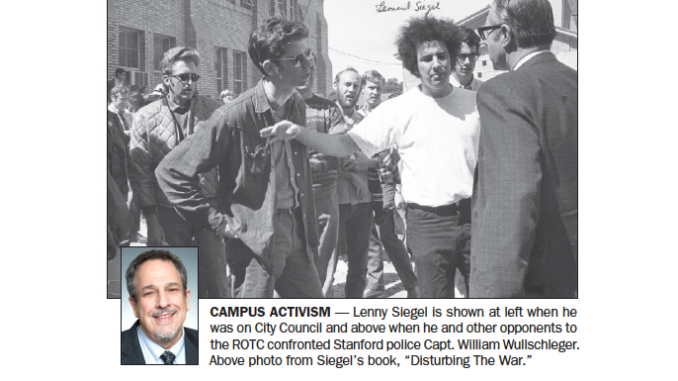 This article was originally published in the Monday, March 8, print edition of the Daily Post. To get all of the local news first, get in the habit of picking up the Post every morning at 1,000 Mid-Peninsula locations.
BY DAVE PRICE
Daily Post Editor
Berkeley has a prominent role in the history of the anti-Vietnam War movement, but a new book by former Mountain View Mayor Lenny Siegel shows how he and other Stanford students became a thorn in the side of the military industrial complex during demonstrations in the Palo Alto area.
Siegel has written the autobiographical "Disturbing The War, The Inside Story of the Movement to Get Stanford University Out of Southeast Asia," which is now on Amazon, in bookstores and available on Kindle.
When Siegel was on City Council from 2014 to 2018 and mayor in 2018,
he was a champion of rent control, building more affordable housing and sticking up for the rights of people who sleep on RVs on city streets.
In "Disturbing The War," Siegel explains how he became an activist and …
Premium Content: To read the rest of this article, please click here and Sign In or Subscribe to access our paid site.
If you have a Daily Post Archives account, your access includes Premium Content such as this article. Enter your Archives Username and Password, and you will be redirected to the article.
If you are a first-time user, please Subscribe to select a plan that meets your needs, and create an account to view premium content such as this article.