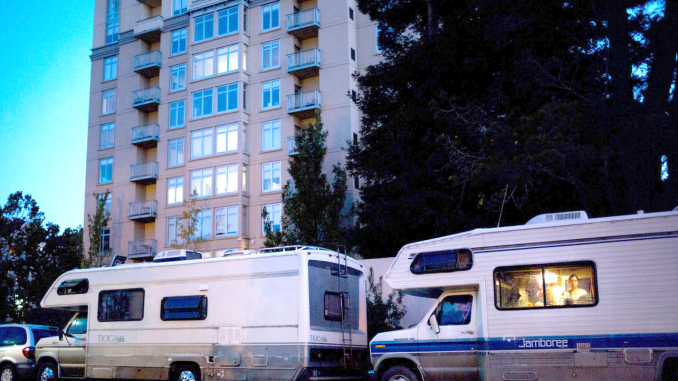 BY ALLISON LEVITSKY
Daily Post Staff Writer
The 250 to 400 people who live in cars, vans and RVs in Mountain View could get a place to park in a designated lot away from aggrieved neighbors, according to city leaders.
City Council will hear an update on the city's "safe parking" programs on Oct. 9.
Mayor Lenny Siegel, who is running for re-election on Nov. 6, said he wasn't sure what that conversation would cover, but confirmed that the city was considering identifying a lot where a few dozen RV dwellers could park overnight.
One option would be for the city to lease lots from closed businesses, such as the SummerWinds plant nursery at 805 Yuba Drive or Orchard Supply Hardware at 2555 Charleston Road.
The SummerWinds property is in an industrial neighborhood within walking distance of Walgreens, Nijiya Market and Smart and Final.
Putting the RVs in a nonresidential neighborhood, but close to grocery and drugstores, would benefit the RV dwellers and keep the vehicles out of neighborhoods where residents may complain, Siegel said.
Because lots tend to sit empty for 12 or 18 months between leases, Siegel said the RV parking lot would likely have to move around every year or so.
Other options could include the Palo Alto Housing property on Linda Vista Avenue or the Shoreline Amphitheater parking lot during the off-season.
A church offers sanctuary
Since June, St. Timothy's Episcopal Church on Grant Road has been lending four parking spaces overnight to people who live in cars, but not RVs.
But Siegel said neighbors in that area have already begun complaining about "having a few cars parked across the street from them at night."
Planning Commissioner Lucas Ramirez, who is also running for council, told the Post on Wednesday that vehicle dwelling had been the top issue constituents wanted to talk about when he was campaigning door to door.
Ramirez said he has dealt with the vehicle-dwelling issue in his work as a policy analyst for the city of San Jose.
"Most vehicle dwellers are fairly savvy and know the rules and abide by them, so they move within the 72-hour limitation, and they generally find places where they're not causing significant impacts," Ramirez said. "They're not in neighborhoods, but on the periphery."
Complaints from some residents
Siegel said most people he's talked to about the issue think the city is doing the right thing, but that some residents have complained that vehicle dwellers in general "aren't paying taxes, they're criminals, they came here for all of our free services."
Last month, police arrested a man whose blue converted school bus contained meth, needles, drug paraphernalia and a pellet gun on Continental Circle, but Siegel said such stories are flukes and that most vehicle dwellers aren't criminals.
Former Mayor John Inks, who is running again after two years off the council, criticized policies that encourage vehicle dwellers to stay in Mountain View.
Inks said he didn't personally object to the RVs, but that he thinks the sanitation services provided by the Community Services Agency of Mountain View and Los Altos, which include laundry, showers and toilets, lure vehicle dwellers to town.
"I would not use surplus tax dollars that the council has used to subsidize the RVs on the streets, and I would kind of make sure that our policy is consistent throughout the city," Inks said.
Councilwoman Pat Showalter, who is running for re-election, disagreed.
"I find it hard to believe that anybody finds a Port-a-Potty attractive," Showalter told the Post. "That's to meet a basic sanitation need. I don't see that as an incentive."
Showalter said she sees adding safe parking options for RVs as "one of the best things that can be done," but that the goal should be to add supportive housing for the homeless to get them out of their vehicles and under a roof.
"I really feel like this is just one of the tendrils of the housing issue, and we need to create more housing," Showalter said. "But it's not just a Mountain View problem. The whole Bay Area needs to be doing it."