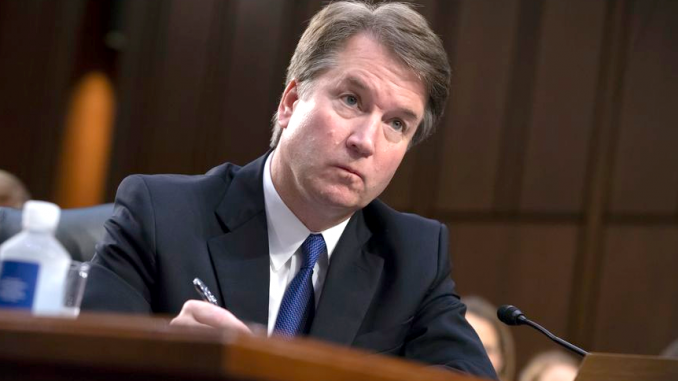 From staff and wire reports
Supreme Court nominee Brett Kavanaugh yesterday (Sept. 14) denied an allegation of sexual misconduct from a Peninsula woman, seeking to avoid a threat to his confirmation as new details emerged and several senators remained silent on whether they would vote for him.
"I categorically and unequivocally deny this allegation," Kavanaugh said in a statement released by the White House. "I did not do this back in high school or at any time."
The woman has been identified by Politico as a Stanford professor, but her name has not been revealed publicly.
The New Yorker magazine reported yesterday that the alleged incident took place in the early 1980s at a party when Kavanaugh, now 53, was attending Georgetown Preparatory School in Bethesda, Maryland, and the girl was attending a nearby high school.
According to the New York Times, Kavanaugh and a classmate of his had been drinking when they allegedly took the teenage girl into a bedroom. The door was locked, the music was turned up and the girl was thrown on the bed, according to the letter. Kavanaugh allegedly put a hand over the girl's mouth, held her down and attempted to force himself on her.
The girl was able to free herself but considered the incident an assault. The other teenage boy involved was identified as Mark Judge, who denied the incident.
Judge told the New York Times that he "never saw anything like what was described" and said it didn't match Kavanaugh's character.
The woman sent the letter about the allegation to Democratic Congresswoman Anna Eshoo of Palo Alto, and the letter was sent to the office of Sen. Dianne Feinstein, the ranking minority member of the Senate Judiciary Committee.
Feinstein was preparing to lead Democratic questioning of Kavanaugh during his confirmation hearing.
The New Yorker reported that the woman contacted Feinstein's office directly, but after interacting with Eshoo's and Feinstein's offices, she decided not to speak about the matter publicly.
Watching Kavanaugh move toward a likely confirmation, she decided to end her effort to come forward, according to the New Yorker.
For several days, Feinstein declined requests for the woman's letter from other Democrats on the Judiciary Committee, the New Yorker reported.
Feinstein's staff initially told other Democratic members' offices that the incident took place too long ago to be brought up in public, and that Feinstein had "taken care of it."
On Wednesday, Feinstein agreed to brief the other Democrats on the committee with no staff present, according to the New Yorker. On Thursday, she announced she had referred the issue to the FBI, where it was included as part of Kavanaugh's background file. Senate Republicans insist Kavanaugh's confirmation remains on track. But the letter has inflamed an intense battle over President Trump's nominee.