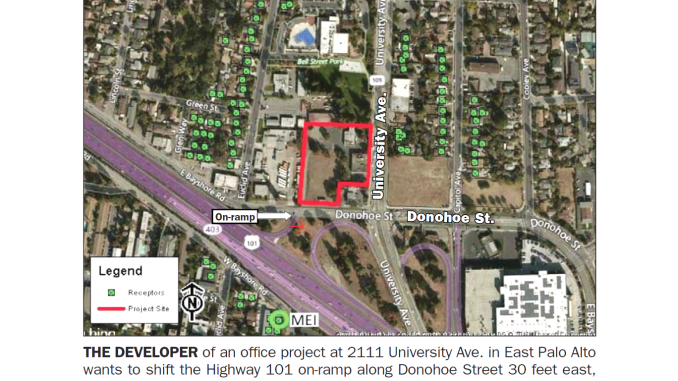 BY EMILY MIBACH
Daily Post Staff Writer
After years of lagging behind the rest of the Peninsula's building boom because of a water shortage, two large projects in East Palo Alto are steadily moving forward, and one proposal includes a request to shift a Highway 101 on-ramp, planning documents show.
Dr. Priscilla Chan, Facebook CEO Mark Zuckerberg's wife, is proposing to build a school at 1200 Weeks St., and The Sobrato Organization is proposing an eight-story office building at 2111 University Ave., right behind a Chevron gas station.
Donohoe Street project
For the University project, Sobrato is requesting to shift the 101 on-ramp located along Donohoe Street 30 feet east, away from Euclid Avenue, so it will line up with the project's driveway.
Sobrato plans to build 231,883 square feet of office space just behind the Chevron, as well as a five-story parking garage with 773 parking spaces beside the station. The project is expected to add 1,701 new trips to the building, according to a recently released draft environmental impact report. Sobrato's tenant for the project is unknown, but it is the landlord of Amazon at 2100 University Ave.
Road widening
As part of attempts to reduce the traffic impact of the project, the environmental report says Sobrato will have to fund the widening of Donohoe between Euclid and Cooley. Chan, meanwhile, has proposed developing the 3.5-acre Weeks Street site into a school for 511 students of preschool, elementary and middle school age, according to a report from Planning Manager Guido Persicone.
The Primary School
The Primary School opened in 2016, and has been operating out of portables across the street from the Ravenswood Family Health Center at 1885 Bay Road. On Monday, the city's Planning Commission will be reviewing the draft environmental impact report for the school.
The environmental impact report recommends that the school pay for new stoplights along Clarke Avenue and Bay Road. Both projects are expected to come before the City Council for approval next year.
Sobrato, school buy water
Sobrato and The Primary School, along with the developer of an office project at 2020 Bay Road, paid $1.53 million to help the city buy some of Mountain View's water supply.
The Chan Zuckerberg Initiative also pitched in $2 million for the purchase, and Sobrato lent the city $1 million toward the transfer.
Due to the city's water shortage, East Palo Alto had placed a ban on new development in June 2016, putting The Primary School and a low-income housing project on hold.
However, because the city bought some one million gallons of water a day from Mountain View and received 500,000 gallons of water a day from Palo Alto, and the moratorium lapsed, new projects can be submitted to the city.