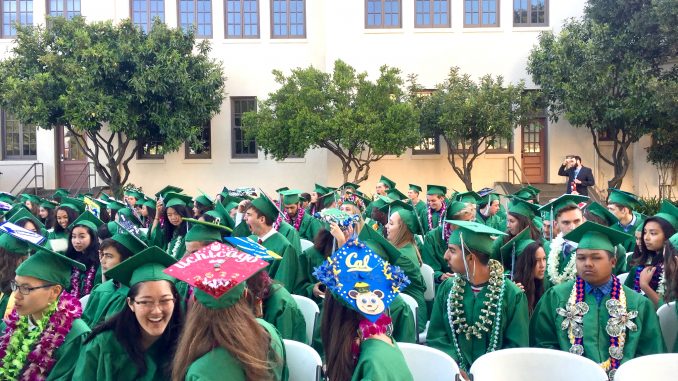 BY ALLISON LEVITSKY
Daily Post Staff Writer
Another 478 Palo Alto High School seniors walked the stage in green caps and gowns yesterday, with hundreds of families packed onto campus to watch under a blue sky heralding new beginnings.
Stephanie Lee, managing editor of Paly's Verde Magazine, gave a speech about the time she asked her economics teacher, Grant Blackburn, if he would be taking attendance on March 14. She wanted to photograph Paly's participation in the National School Walkout over the mass shooting at Marjorie Stoneman Douglas High School in Parkland, Fla. a month prior.
Lee said she had already received a warning about her grades from her college and a truancy letter from the school district, a detail that earned a smile from Principal Kim Diorio, seated onstage behind her.
"He said, 'I as a teacher can't tell you whether or not you should attend the protest tomorrow,'" Lee said. "But as a human being, I want to tell you that the cause you stand for means a whole lot more if you're willing to risk sacrificing something for it. It wouldn't mean anything if you didn't have anything to lose.'"
The powerful speech was one of three given by graduating seniors, two of whom gave a speech together.
Alondra Mendoza and Ricardo Lombera, president of the school's Latino Unidos club, alternated in a speech about their experience finding community in Latinos Unidos and the challenge of defying the racial and socio-economic achievement gap at Paly.
Hard work is worthwhile
"I learned the importance of my culture and why I need to be a proud Chicana," Mendoza said. "Paly has taught me that hard work is inherently worthwhile. Paly has taught me that it doesn't matter where you start, but it matters where you finish."
Lombera touted the orange and yellow mural that the Latinos Unidos had painted on the southwest side of the student center, where actor and Paly alum James Franco's mural was removed this winter.
Lombera explained that the monarch butterflies on the new mural signify support for DREAMers, referring to undocumented immigrants who were brought to the U.S. as children.
Student body president Jaiveer Sandhu, 18, spoke about the value of appreciating the "good old days" of life as they unfold, rather than nostalgically longing for the past or anticipating the future.
"We forget to just stop, breathe and take it all in," Sandhu said. "This is the mistake I made in high school. I got too caught up in everything that I forgot to just take a step back and realize what's going on."
Love expressed for principal
Diorio, who is resigning as principal with the end of the academic year, said, "People, not programs, make a school great," in thanking Paly's more than 200 teachers and employees.
Diorio went on sick leave in February, then announced her resignation. She will be replaced by Adam Paulson next year.
At the end of her remarks, a group of Paly teachers called out, "We love you, Kim!"
The ceremony also included musical performances from talented graduates.
James Poh played a violin composition inspired by the "Fast and Furious" action film series. Student body secretary Marissa Ludwig, 17, performed a traditional Polynesian dance.
Standing in line before the ceremony, graduating senior Benson Ho, who will be studying computer science at UC-Santa Cruz in the fall, quipped that the biggest lesson he had learned at Paly was to "study hard and don't watch too much Netflix."
Joe Worku, who was in the crowd watching his son Joseph Worku graduate, said he had found the school to have more resources than the high school in Santa Clara that his older daughter attended before transferring to Paly.
When asked if he thought the school places excessive academic pressure on students — a common complaint that has resulted in student counseling services and later start times — Worku said he thought it was families, not the school, that caused academic stress.