By the Daily Post staff
Update, 3:15 p.m.: Power has been restored to more than 4,381 Palo Alto residents and businesses after mylar balloons caused touched power lines and caused an outage, according to the Palo Alto Utilities Department.
This report from PG&E says mylar balloons cause the utility about 300 outages a year. Here are some tips for handling mylar balloons from the Los Angeles Department of Water & Power.
Update, 2:50 p.m.: Palo Alto Utilities said it hopes to have power restored by 3 p.m. this afternoon. The power outage, which hit the southern and western parts of town, is being blamed on a mylar balloons hitting a power line and causing a short circuit.
Original report, 1:50 p.m., updated 2:50 p.m.:
Palo Alto Utilities says a possible blown transformer has cut power to 4,381 customers today (June 2).
The Utilities Department said at 1:50 p.m. it has crews working on the problem but they don't have a time for when power would be restored.
Here are the areas of town hit by the outage as of 2:37 p.m.:
Neighborhood
# Out
# Served
% Out
Greenmeadow
954
1032
92.44%
Green Acres
937
1062
88.23%
Palo Verde
1257
2211
56.85%
Charleston Meadows
624
1231
50.69%
Stanford Research Park
105
289
36.33%
Midtown/Midtown West
396
3999
9.90%
Ventura
103
1224
8.42%
Fairmeadow
5
294
1.70%
The outage happened on a particularly warm afternoon when it's likely people were running their air conditioners to keep comfortable. It's too early to know whether that was a factor in today's outage.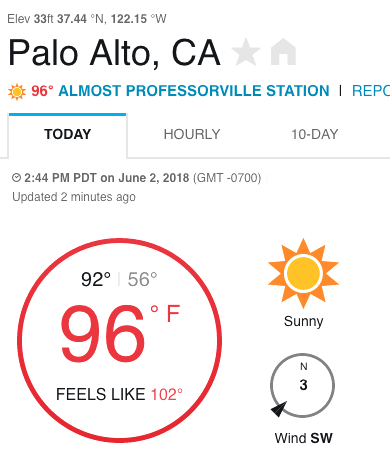 Police are asking residents to refrain from calling 9-1-1 to report the outage. They say dispatchers are getting inundated with calls and have no additional information to provide at this point.
The Utilities Department is providing information on its website, which includes a map showing the location of the current outage.
PADailyPost.com will have more updates as additional information becomes available.