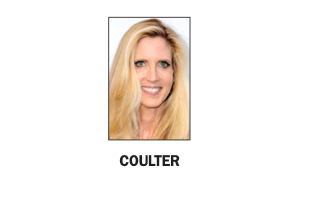 BY ALLISON LEVITSKY
Daily Post Staff Writer
Police in Mountain View are planning security for a sold-out speaker event on Tuesday (March 13) night featuring Ann Coulter, the provocative conservative pundit whose last planned appearance in the Bay Area was canceled for fear of violent protests.
Coulter will speak at the 450-seat IFES Society community center at 432 Stierlin Road at a 7 p.m. event hosted by the Liberty Forum of Silicon Valley, which changed its name from the Conservative Forum in January.
"Liberals: head for your safe spaces! Ann Coulter is coming to town, and she won't be pulling any punches," the event listing reads on the Liberty Forum's website.
Joel Fine, the head of the 15-year-old Liberty Forum, said the group hosts monthly talks by speakers "who can talk about the things that are important to us," including liberty, limited government, fiscal responsibility and a strong national defense.
"Ann's a very strong, outspoken, articulate advocate for a lot of those values," Fine told the Post.
In her talk entitled "In Trump We Trust," Coulter will "be sharing her thoughts on the Trump presidency: the most monumental, paradigm-shifting, vilified administration in history," according to the Liberty Forum's website.
"She'll discuss what's been accomplished, what's left on the table and what Americans can do to ensure the moment is not wasted," the event page reads.
Police to close road
Police will be blocking off part of Stierlin Road in the Jackson Park neighborhood from late afternoon until shortly after the event is over.
Only residents living in the "immediate vicinity" of the event hall and attendees with tickets to the event will be allowed to drive into the road closure.
No tickets will be sold at the door because the event is sold out. In addition to a police presence, the Liberty Forum has hired private security, Fine said.
Berkeley speech canceled
Coulter canceled her speech at Berkeley in April after the conservative groups sponsoring her appearance pulled their support for the event.
Two months prior, violent campus protests had led the university to cancel a speaker event with another conservative provocateur, Milo Yiannopoulos.
Coulter has written 12 books, including "In Trump We Trust: E Pluribus Awesome!," "Adios, America: The Left's Plan to Turn Our Country into a Third-World Hellhole" and "Never Trust a Liberal Over 3 — Especially a Republican."