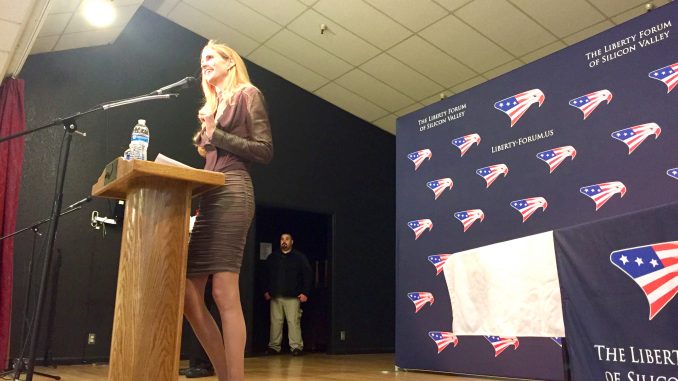 BY ALLISON LEVITSKY
Daily Post Staff Writer
Conservative commentator Ann Coulter made the case for strong borders at a sold-out event in Mountain View last night (March 13), which drew only one protester even after her last planned appearance in Berkeley was canceled due to violent threats.
"There's no constitutional right for everyone to move here," Coulter told the audience. "Stop bringing in millions of poor people who we have to help."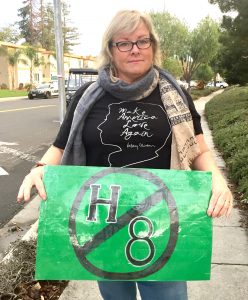 The talk entitled "In Trump We Trust," named after her August 2016 book in support of Donald Trump's presidential campaign, was held at the IFES Society at 432 Stierlin Road by the Liberty Forum of Silicon Valley, which changed its name from the Conservative Forum in January.
The crowd of about 600 included diehard members of the 15-year-old group, which hosts monthly talks with conservative pundits like Dinesh D'Souza and James O'Keefe, as well as some newcomers.
At least four attendees, including children, sported the red or green camouflage-print "Make America Great Again" baseball caps that Trump popularized.
The enthusiastic crowd applauded, laughed and booed along with Coulter as she railed on immigrants, liberals and "idiot millennials." Coulter argued that Democrats support relaxed immigration policies because immigrants tend to vote for Democrats, and because elites benefit from the cheap labor they provide.
"If you don't (have an immigrant maid, nanny or pool boy), immigration is a net cost to you as a taxpayer," Coulter said. "Our immigration policy is 'anybody who lives within walking distance.'"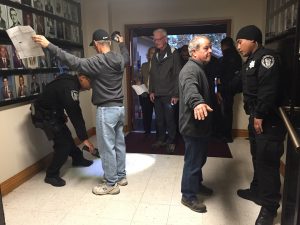 In an apparent nod to Silicon Valley, Coulter speculated that Facebook co-founder and CEO Mark Zuckerberg doesn't want immigrants to compete with one of his children, but to compete with his landscaper.
"Every country in the world, send your losers to us," Coulter said in characterizing the country's immigration policy, arguing that black Americans are the most hurt by lax immigration.
Immigrants and voting
As white Republicans age and die out, Coulter claimed, immigrants from Latin America and Asia are bound to vote against conservative values.
"White Americans are the only demographic where a majority supports free speech," Coulter said. "White Americans are the only demographic where a majority supports gun rights."
At the same time, Coulter said, Democrats will stop running white candidates, saying that her "money's on Kamala Harris" to loud boos from the crowd.
"This is the end of the white Democrats," Coulter said. "Too bad it's the end of the country."
Coulter scoffed at claims that she is racist or anti-Semitic, and said that her response to those who said her use of the word "globalist" to mean "Jewish" in tweets last week was "Go f— yourself. You're not going to control my language."
Earlier speech canceled
Coulter canceled her speech at UC-Berkeley in April after the conservative groups sponsoring her appearance pulled their support for the event.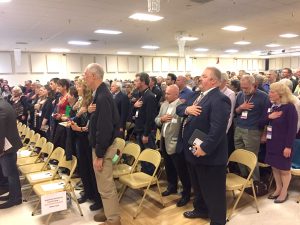 Two months prior, violent campus protests had led the university to cancel a speaker event with another conservative provocateur, Milo Yiannopoulos.
Police and private security guards guarded the doors, checked bags and used metal detector wands on attendees as they walked in. Stierlin Road was also blocked off to traffic.
But ultimately, only one protester showed up.
Karin Fitzgerald, who said she moved to the neighborhood from Pittsburgh, Pa. three months ago, held a sign bearing the Martin Luther King Jr. quote "I have decided to stick to love. Hate is too great of a burden to bear," and called out "Shame on you guys for supporting hate speech" to attendees as they walked in.
One man held up his middle finger at her from his car.