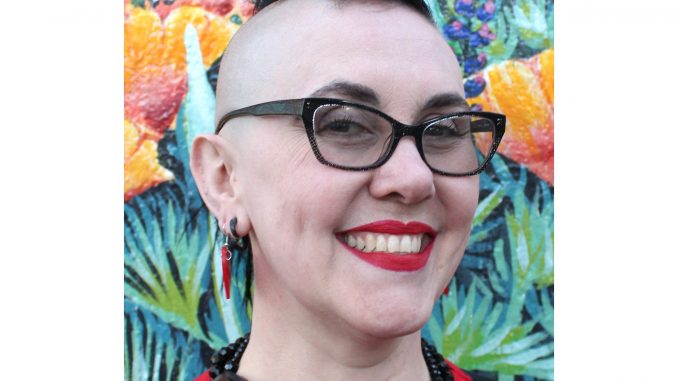 By the Daily Post staff
Rebecca Parker Mankey, the Palo Alto activist who made headlines after berating a man in a Make America Great Again hat, is no longer missing.
The Lake County, Calif., Sheriff issued a brief statement this morning (April 23):
"Rebecca Mankey, who was originally reported as a missing person to the Lake County Sheriff's Office on April 19, 2019, has been located safe and is no longer a missing person."
The sheriff's office refused to elaborate. Attempts to reach Mankey's family were unsuccessful.
Mankey, 46, had been visiting a friend in the Lake County city of Lakeport since April 11. She left her friend's house around 10 a.m. Thursday (April 18). When she didn't arrive home in Palo Alto, her husband became concerned and reported that she was missing to the sheriff in Lake County.
Lake County sheriff's detectives "pinged" her cellphone and found the phone was in Aberdeen, Wash., a city of about 17,000 in the Olympic Peninsula region, about 50 miles west of Olympia.
She disappeared about three weeks after an incident at the Starbucks on California Avenue in Palo Alto in which she berated a 74-year-old man wearing a Make America Great Again hat. She followed up the verbal barrage with a social media post about the man. She said on Facebook, "He will never forget me and will think seriously about wearing that hat in my town ever again. If you see him in this hat, please confront him."
Mankey is an affordable housing activist who was appointed to serve on the city's North Ventura Coordinated Area Plan Working Group.
In November 2017, she unsuccessfully sought an appointment to the Planning and Transportation Commission, winning votes from slow-growth council members Tom DuBois, Lydia Kou and Karen Holman. She also ran for a delegate seat with the Democratic State Central Committee in January, but wasn't elected.
After the incident, Mankey resigned from the Bayshore Progressive Democrats, a club where she served as co-chair.