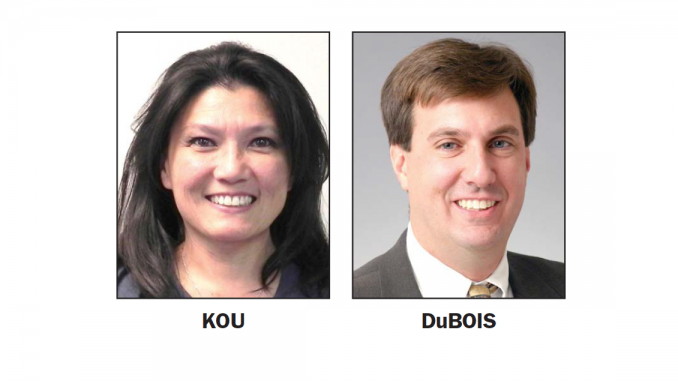 This story originally appeared in Tuesday's print edition of the Daily Post. To get all the local news, including many stories you can't find online, pick up the Post every morning at 1,000 Mid-Peninsula locations.
BY SARA TABIN
Daily Post Staff Writer
Palo Alto should raise the fees that developers have to pay when they build new office space from $36.53 per square foot to $64, City Council members Lydia Kou and Tom DuBois say, so that more money can be put toward subsidizing affordable housing.
Kou and DuBois drafted a memo for the council's meeting next Monday (Sept. 23) which says the city needs to do more to attract affordable housing.
"We are really asking our colleagues to prioritize this and have staff do more research and come back with more specific proposals," said DuBois. "Market level housing takes care of itself, but affordable housing is really hard. I think that's where cities need to get involved."
DuBois said the city's impact fees are an area that needs to be re-examined given that the county, after conducting research, set higher impact fees for Stanford as part of the university's proposed expansion. He said he wants the city manager to commission a study on whether the city's current impact fees on new construction, which subsidize low-income housing units, are high enough to generate enough money to build more homes.
Slow pace
Amid a housing crisis in the Bay Area, Palo Alto has been especially slow to permit affordable homes.
So far, the city has only permitted 447 of the 1,988 units that it is supposed to grant between 2015 and 2023 under state housing standards. Of the units that were permitted since 2015, only 101 units were designated as low-income housing. In Santa Clara County, people who make $30,750 to $72,750 per year are considered low-income.
The city also approved 42 moderate income homes since 2015. People who make between $72,750 and $123,000 fall into the category of moderate income.
A February report from the nonpartisan organization Next10 found that the city would not meet its 2023 goals until 2063 at its rate of housing production.
Not enough developers interested
DuBois told the Post that City Council has zoned for low-income housing but has not received enough permit requests from developers for affordable housing projects.
In their memo, Kou and DuBois have asked that the council decide what percentage of an apartment development should be set aside for low-income residents. They suggest that 15% to 25% of units in residential developments where one owner owns more than five units should be designated low-income.
The city already has such mandatory inclusions for units going up for sale, but not for rentals, said Kou.
The council members also want the city to do more to prevent existing housing from being converted to commercial use.