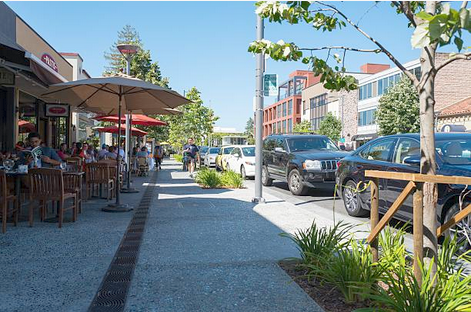 BY BRADEN CARTWRIGHT
Daily Post Staff Writer
Since the city of Palo Alto reduced California Avenue from four to two lanes a decade ago, a total of 21 businesses that opposed the change are no longer operating on the street.
A bookstore, a pharmacy, a camera shop and different kinds of restaurants — Mexican, French, Chinese and Japanese — are among the casualties.
Some of the lost businesses were on Cal Ave. for a long time, like Maximart Pharmacy, which lasted from 1972 to 2019, and Keeble and Shuchat Photography, which was open from 1965 to 2016.
They were all part of a coalition of 58 businesses in 2012 that asked the city to invest in Cal Ave., but not to make major changes. They made their feelings known through full-page newspaper ads and letters. "Many of our customers arrive by car, and we believe two lanes would be inconvenient, potentially dangerous and detrimental to business," said a letter by the coalition.
Improvements wanted
The coalition asked the city to provide better parking, to repave and repaint the street and to create raised and brightly marked crosswalks. They also wanted more lighting, plants and trash cans.
"The California Avenues Business District is already successful due to its unique character and the longevity of its local small businesses," the letter said. "We hope that the city continues with safety and beautification efforts for the district, but leaves the existing lane structure intact."
The coalition wrote letters, bought newspaper ads and some of its members filed a lawsuit. But their efforts were unsuccessful: Council voted in July 2012 to reduce the number of lanes and redesign the public areas. Construction was completed in 2015 for $7.2 million.
A similar dynamic exists today, although the coalition has 35 businesses, and they're now asking for one lane to be open.
Jessica Roth of the Cobblery and Michael Ekwall of La Bodeguita del Medio are two of the coalition's leaders, both then and now.
Cal Ave. has the highest vacancy rate of any shopping area in Palo Alto, around 15%, according to the city's economic development consultant.
Consultant hired
The street was closed to cars in March 2020 to give restaurants more space for outdoor dining during the pandemic.
Council extended the closure for three years before making it permanent on Monday. They'll now hire a consultant, Urban Field Studio, to come up with a design for the street.
City Manager Ed Shikada has acknowledged that the changes won't affect all businesses equally.
"There's an evolution that's happening that will be more inviting for some types of businesses than others," he told council in March 2022.
Businesses that closed since July 2012
Accent Arts
Antonio's Nut House
Avalon Art & Yoga Center
Baume Restaurant
Cafe Brioche
Cho's Dim Sum
Cigar House
Country Sun Natural Foods (closing in December)
Ingrid's Suntanning
Keeble and Shuchat Photography
Maximart Pharmacy
No Knew Books
Office of Dr. Kenneth Seeman
Palo Alto Baking Company
Ramona's Too Pizza
Spalti Restaurant
Szechzuan Cafe
Taqueria Azteca
The Industry Hair Artists
Uzumaki
Zen Garden Nail Salon