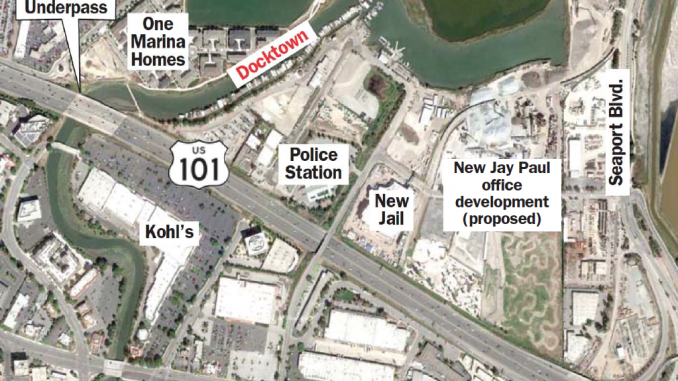 BY EMILY MIBACH
Daily Post Staff Writer
The City of Redwood City has paid out over $26 million in various settlements, attorneys fees and cleanup costs related to Docktown, the community of live-aboard boats in Redwood Channel, records show.
The city has run the marina, which is east of Highway 101, since 2013 and told the 100 or so residents to leave in 2016 because the marina is on state land.
All told, the city has paid out $26,201,264 over the past 10 years, according to information released to the Post through a Public Records Act request.
About $1 million of those settlements have occurred in the past month. Last month, the city entered into settlement agreements with four households at Docktown, paying them $190,000 each for all lawsuits to be dropped and to get the tenants to move.
A jury on Oct.12 decided must pay $345,873 to residents who didn't drop their lawsuits against the city.
Most of the money has been paid out by way of settlements and evictions, totaling $17.95 million over the past 10 years, according to records released to the Post.
The city has paid $3.3 million in attorney's fees related specifically to Docktown, and has paid $4.96 million for clean-ups to the marina and other "miscellaneous costs." The specifics of the miscellaneous costs were not specified in the city's response.
The city posted a surplus of $58.4 million for the 2022 fiscal year, but is thinking about putting a tax measure on the ballot next year — either a transfer of real estate or an increase in the business tax.
The city paid $1.5 million to attorney Ted Hannig and his group to settle a suit they brought to close Docktown. The settlement also required the city to put at least $3 million into a fund to clean pollution at Docktown and provide relocation assistance to residents.
The result of the suit was that the Docktown would be closing, though council members at the time denied that would happen. "I want to state unequivocally that this is false," then-vice mayor Ian Bain said in 2016.
A last-ditch push to save Docktown in a last-ditch move failed when then-state legislators Jerry Hill and Kevin Mullin were unsuccessful in putting together a bill to legalize the place.