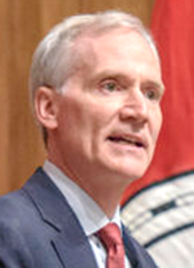 By the Daily Post staff
The Stanford trustees have opened an investigation into whether President Mark Tessier-Lavigne, a neuroscientist, was responsible for altered images in his academic research, the university announced this morning.
Trustees chair Jerry Yang said the investigation will be led by Trustee Carol Lam, who also serves as chair of the board's Committee on Audit, Compliance, and Risk, along with trustees Felix Baker, James Coulter and Jeffrey Stone.
Yang said the investigation will "conduct its investigation with all deliberate speed."
"I also want to note that since President Tessier-Lavigne's appointment in 2016, he has effectively led this university with integrity and honor. I am confident he will continue to do so while we undertake this review," Yang, the co-founder of Yahoo, said in a statement.
The university launched the inquiry after the Stanford Daily, a campus newspaper, reported that four papers by Tessier-Lavigne as a co-author contained "serious isssues," according to academic misconduct expert Elisabeth Bik.
Bik was a staff scientist at Stanford doing postdoctoral microbiology research until 2016 and is now a well-known research integrity consultant who specializes in photographic images. She told the Stanford Daily that she heard about the questions about some papers of which Tessier-Lavigne is one of the authors a few years after they were first raised, and identified additional possible problems.
Most appeared to be minor concerns, and they could have been honest mistakes, she said.
Bik said that last week she spotted a more troubling instance in a paper from 1999 with multiple authors where it appeared photos had been altered, which she said was suggestive of copying and pasting.
Matthew Schrag, a neurologist at Vanderbilt University School of Medicine who specializes in Alzheimer's disease, told the Washington Post that he had been aware of the questions about some of Tessier-Lavigne's papers. Schrag, who recently did some research integrity work that effectively called into question what had been viewed as groundbreaking findings on the disease, emphasized that he was speaking as an individual, independent of his work for Vanderbilt.
He said there are a handful of papers, mostly older ones, where it seems like there is a legitimate concern.
He also noted that Tessier-Lavigne has a very large and influential body of work, and the concerns that have been raised are about a relatively small number of papers in comparison to what he has done.
Schrag said it would take a long time to go through his entire body of work. "But I've looked at quite a few of his other papers, and I don't see a pattern of … distortions or abnormalities that raise red flags to me throughout his work. It seems to be isolated to a handful of papers, and he certainly has a number of very, very important scientific accomplishments that have stood the test of time and been verified by other people."