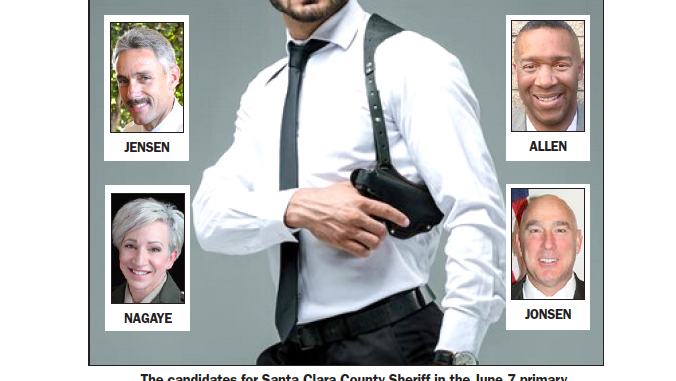 BY BRADEN CARTWRIGHT
Daily Post Staff Writer
Reforming the process for getting a concealed carry weapons permit in Santa Clara County is a central issue in the four-way race for the next sheriff.
That's because current Sheriff Laurie Smith is in hot water because she allegedly took bribes in exchange for carry permits. She has been sued and accused of corruption by a Civil Grand Jury for giving out permits to campaign donors, while letting other applications sit in a drawer.
Despite high demand from security personnel at tech companies, records show Smith gave out just 62 permits between 2014 and 2018, despite receiving 749 applications.
Sheriffs in California are given broad discretion to issue these permits. They can issue a permit as long as the applicant has passed a background check, completed a training course and proved they have good cause for carrying a gun.
Most states are "shall issue" states, so the sheriff must allow a person to carry if they follow the rules. A handful of states, including California, leave it up to the sheriff.
What qualifies as "good cause" is subjective, and it varies from county to county. Some sheriffs are more liberal, while others, like Smith, are highly selective.
The positions of the candidates
All four candidates agree that the process needs to be fixed, with fairer rules and more transparency, but they have different ideas for doing so. Here's what they said in interviews with the Daily Post.
Sgt. Christine Nagaye said she wants to make the process entirely online, like San Mateo County does. People would be able to submit all of their forms and see where their application stands, and the public would be able to look at statistics on how many permits were denied, and why, Nagaye said.
Seven counties use an online system by the company Permitium, which allows police officers and gun dealers to check if permits are valid in real time. Nagaye said she would ask the Board of Supervisors to use this system and pass the same carrying policy as San Mateo County.
"It's completely digital and 100% transparent," she said.
Jail Sgt. Sean Allen said he wants face-to-face interviews to remain a part of the process. He would hire a retired officer or a reserve deputy to vet people, and applicants could get a permit as long as they aren't dangerous, he said.
Allen said he would give out more permits than Smith. It's a citizen's constitutional right to bear arms, and some people face threats in their daily life, he said.
"The idea is not to arm the whole world," he said. "The idea is to make it a fair and safe process."
Palo Alto Chief Bob Jonsen said he wants to have a psychologist evaluate people who apply, and he wants to require longer training. The state's minimum is eight hours of training with a gun, but Jonsen would look at going up to 24 hours. He would also require permit holders to practice on a firing range at least once a year.
The challenge will be finding qualified psychologists who will take on the liability of signing an evaluation, Jonsen said.
"After a pandemic and all of the things we've faced, I just want to make sure a person is psychologically sound," he said.
Retired Capt. Kevin Jensen said he is looking at appointing a panel to review applications. He said he would set the criteria and sign the permit, but the panelists would be the ultimate decision makers on whether the criteria is met.
Jensen said he would focus on "sensibility train-ing," so people know when to use their guns and how to store them safely. in bolted-down safes.
People with concealed carry permits generally don't commit crimes, but 43% of gun crimes are committed with guns taken from legal owners, Jensen said.