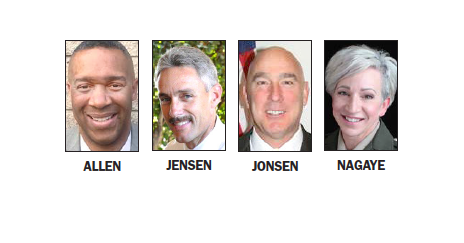 BY BRADEN CARTWRIGHT
Daily Post Staff Writer
All four candidates for Santa Clara County Sheriff say they want more transparency and accountability in the office, but only two of them have committed to unencrypting sheriff's radios and allowing the public to once again listen to sheriff's activity.
Encryption has been a hot topic in law enforcement since October 2020, when the state DOJ issued a mandate for departments to protect personal information.
Some departments, like the CHP and all San Mateo County agencies, created a policy for officers to communicate only pieces of personal information at once.
Other departments, including all agencies in Santa Clara County, went with encryption. Sheriff Laurie Smith encrypted the sheriff's radios on April 26, 2021.
Here's what the candidates said about encryption in interviews with the Post.
Retired Capt. Kevin Jensen said he hasn't made up his mind, and he sees both sides. He said he witnessed cases where suspects had scanners in their home, and they knew police were coming. He said the public wants to know what's going on, but they shouldn't be able to hear everything. "I'm still looking for solutions," he said.
Jail Sgt. Christine Nagaye said she would immediately move to using unencrypted radios by issuing general orders for deputies to protect personal information, as the CHP did. She said she supports state Senator Josh Becker's Senate Bill 1000, which would require agencies to unencrypt.
"The biggest change, day one, would be addressing transparency right out of the gate," she said.
Jail Sgt. Sean Allen also said he would unencrypt on day one. He said police have used unencrypted radios for decades, so he doesn't understand why they can't go back now.
"I don't want to hide anything that's not protected by law," he said.
Palo Alto Chief Bob Jonsen has been on the front lines of defending encryption in the city, and he said it's a complicated issue. He has argued that he is under a legal mandate, and the city could be sued or kicked out of a regional radio group if radios are unencrypted. He said candidates who promise to unencrypt are being unrealistic.