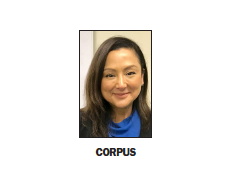 BY EMILY MIBACH
Daily Post Staff Writer
Capt. Christina Corpus says she will make sure people know who their sheriff is, if she is able to unseat her boss — San Mateo County Sheriff Carlos Bolanos.
Corpus, 51, has worked for the Sheriff's Office since 2002, getting hired as a correctional officer by then-Sheriff Don Horsley. Since then, Corpus has worked in various capacities in the department — such as the professional standards bureau over overseeing patrol for North Fair Oaks, west Menlo Park Emerald Hills, Portola Valley, Woodside and unincorporated Belmont. She currently heads the department's office in Millbrae,
where the sheriff's office is that town's police agency. Corpus told the Post that she wanted to be an attorney growing up. But at 16, she was the victim of a violent carjacking. She says the empathy of the officers after the incident helped her decided to pursue a career in policing. She started her career as a caseworker with the San Mateo County District Attorney's Office in 1995.
Corpus says her wealth of experience within the office will help her be able to lead it — she also has more recent experience working with residents of the county, having walked patrols and attended public meetings in her capacity as essentially a police chief.
"I know the sheriff's department. I have grown up with it," Corpus said.
Open-door policy
Corpus' experience as a police chief has made her realize that people don't know who the sheriff is, and plans to have an open-door policy where people or organizations can tell her ways to improve the office.
Another way Corpus plans for residents to know their sheriff is by creating advisory committees in the north, south and coast portions of the county, and meet with the committee quarterly to discuss issues in their area. Corpus said the committee would include religious leaders, school administrators, parents and others who know first-hand what is happening.
"I don't believe that my office should be in a building where I will be out of touch with the community, my office will be whereever the people of this county are," Corpus said.
In fact, Corpus said she once proposed for the "old Maguire" jail in downtown Redwood City, which is going to be converted into a new headquarters for the sheriff's office, become housing for deputies.
"Then if there's an emergency, they're right there. But that never took off and it will be new offices … You have to weigh out what is more important to you as the top of the organization, is it fancy new offices or is it to have people happy and well rested?" Corpus said.
Corpus is interested in expanding mental health programs in the county, including having something countywide where clinicians respond to non-violent incidents versus the current system where the county has two clinicians and two detectives who respond to mental health issues.
She also wants to expand mental health programs in the jails.
More information about incidents
Corpus is also interested in increasing transparency. For instance, if an incident occurs where an officer shoots someone, instead of waiting the 45-day period that is allowed by law before body-worn camera footage is released, she would want to put out that footage immediately.
As far as having an independent auditor — like the one Palo Alto has for reviewing police disciplinary reports — Corpus said she's open to it because it would help increase transparency "across the board."
However, Corpus pointed out that making sure officers feel supported can go a long way in decreasing "the question of how they reacted to an incident."
Corpus would want to evaluate the training that officers currently undergo and see if it is actually effective.
She'd also like to implement mental health wellness programs for officers and figure out ways to increase the opportunity for officers to get housing in the area.
Before Sheriff Bolanos announced that his office would no longer work with ICE in telling them when people would be released from jail, Corpus was calling for an end to the program. She pointed out that it is usually the children who suffer in these situations by losing a parent, who is usually the breadwinner in the family. She said sometimes the strain of having a family member get deported or taken by ICE in front of them can cause PTSD and lead to potential drug use.
Tattoo controversy
Corpus'husband, retired Sheriff's Lt. John Kovach, who grew up in Georgia, South Carolina and Florida, got a tattoo when he was 16 of the Looney Tunes character Yosemite Sam carrying a Confederate flag. He has since covered up the flag after dicovering the flag's meaning.
Corpus is the only candidate running against Bolanos in the June 7 primary election. If either candidate gets over 50% in the June election, there will be no need for a run-off in November.