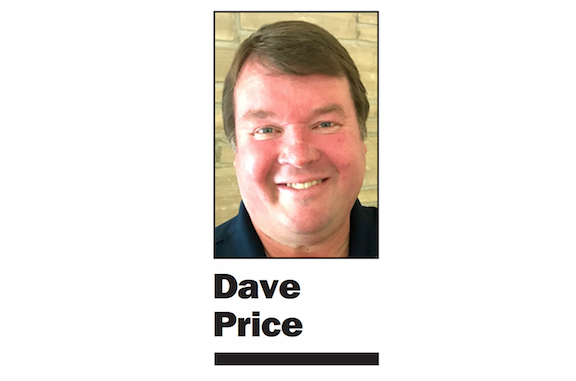 OPINION
BY DAVE PRICE
Daily Post Editor
The city of Palo Alto unwittingly or intentionally is getting its facts wrong about the encryption of police radios.
For 70 years, cities in California have allowed the public to listen to police radio transmissions, which is an essential method of newsgathering by journalists.
In 2021, Palo Alto Police Chief Robert Jonsen decided to encrypt his department's public transmissions.
The city last month put out a Medium post citing the Police Department accomplishments in 2021 that included a couple of whoppers.
Under the heading, "Launched a new Police Calls for Service Map," the end of the first paragraph says, "The map … was created as an alternative to unencrypted communication after the California Department of Justice began requiring encrypted radio communication." (Italics mine.)
The state DOJ never required encryption. An October 2020 memo that Jonsen cited in his defense of encryption gave police agencies two choices — 1. encryption or 2. other methods that would protect what law enforcement calls Personally Identifiable Information or PII.
Palo Alto picked the most extreme choice of encryption while other agencies, such as the CHP, Menlo Park Police and San Mateo County Sheriff, have found other ways of protecting PII without broad encryption.
The Medium post directs a reader to the Beta Calls for Service Map, and the first bullet point says, "The exact geographic location of the call is not provided to ensure the confidentiality of possible crime victims."
However, at an April 4 council meeting, City Manager Ed Shikada and Chief Jonsen said exact locations weren't given because of objections from the police union. A check of the video tape of the April 4 meeting shows that nobody mentioned protecting crime victims from having their address disclosed.
The Medium post refers to the local press as the police department's "media partners."
Excuse me, but my newspaper isn't a partner with the city or police. We're independent of the people we cover, not their partners.
Calling the press a "media partner" makes it sound to some sources as if reporters are not independent but instead arms of law enforcement.
The Medium post wasn't signed, so I tried to find out who at city hall wrote it. I finally got a response from the city's spokeswoman, Meghan Horrigan-Taylor.
She insisted that the city was "factually correct" regarding items 1 and 2 without offering any evidence contracting the information I offered. It was as if she was saying "It's right because I said it is."
She did concede that on point 3 that they would stop calling us their "media partners."
Everyone makes mistakes, including me and my newspaper. When the Daily Post makes an error, we print the correction on page 1. I don't know of another newspaper around here that does that.
Since the city is unwilling to correct what are obvious errors, I wonder whether these mistakes are innocent or intentional.
As we reported previously, City Council on April 4 voted 6-1 to continue encryption. The lone vote on the side of transparency was that of Greer Stone.
The issue has now moved on to the state Legislature. State Sen. Josh Becker, D-Menlo Park, has introduced Senate Bill 1000 that would require Palo Alto to drop encryption. It's sad that it had to come to this.
While the First Amendment suffered a blow with the 6-1 vote, an important piece of information emerged at that April 4 meeting — the police union calls the shots in the Police Department, not the chief, the city manager or the city council. They do it behind closed doors. The public rarely hears about it.
Council should be deciding police policy. And if the union doesn't like that, they can run one or more of their members for council this fall.
•••
Leave the kids alone
Hey, parents, you're not fooling anyone when you drag your kids to a public hearing and force them to go to the microphone to speak. I know you want to make it seem as if they're spontaneously offering their own youthful opinions, not parroting what they were told by their parents. But when you're talking to the school board, you have five experienced public officials who have seen it all. You're not going to fool them or the audience.
•••
Council power shift
Nobody's surprised that Alison Cormack won't seek a second term on the Palo Alto City Council. That's been in the rumor mill for at least two months, but she hasn't wanted to confirm that to the press until now.
Two other council members, Eric Filseth and Tom DuBois, are leaving at year's end due to term limits. That means the city will have three new faces on its seven-member council in January. Up until a few months ago, I would have bet that the November council election would be a quiet contest with little controversy.
City Council has two factions — 1. the Residentialists or slow/no growth advocates and 2. the pro-business, pro-new housing advocates. The Residentialists currently control council with a 5-2 majority. (On the Residentialists side is Mayor Pat Burt, DuBois, Filseth, Lydia Kou and Greer Stone. On the pro-business side are Cormack and Greg Tanaka.)
But if council pushes forward with the business tax, it's likely the business community will put up hundreds of thousands of dollars to defeat the tax and elect a slate of candidates.
If they win all three seats, they'll control the council with the vote of Tanaka, whose current term doesn't end until 2024.
Suddenly, a lot is at stake. Yet nobody is campaigning. Yes, one or two names of prospective candidates are going around, but nothing official.
Editor Dave Price's column appears on Mondays. His email address is price@padailypost.com.