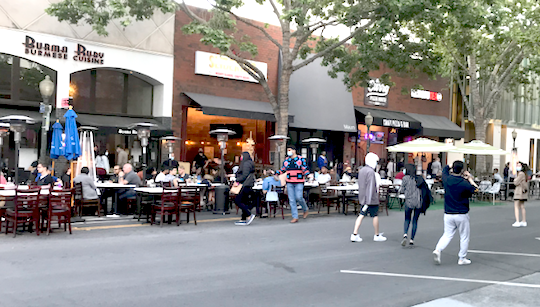 By the Daily Post staff
Palo Alto City Council early this morning decided to continue the closure of parts of University Avenue and California Avenue to cars until Sept. 30.
The closures, which began last year during the pandemic, allow restaurants to serve patrons outside, usually in temporary tent-like enclosures.
Critics, such as landlord Roxy Rapp, said the outdoor expansion of restaurants has hurt other businesses in the same vicinity because they're not seen by drivers passing by.
"Out of sight, out of mind," Rapp said. "Closing off the streets is just killing us."
While city employees didn't have figures on how well businesses were doing on streets that were closed to car traffic, Rapp said he spoke to the following businesses who reported sales were down: Lululemon, 432 University; Chico, 396 University; Letter Perfect, 384 University; The RealReal, 379 University, and B8eta, 375 University.
Rapp said the owner of Footwear Etc., 463 University, reported his business is "way down" compared to his other stores up and down the state.
But many residents sent emails to the city asking that the streets remain closed.
Councilman Greer Stone echoed their thoughts by saying the street should remain closed to cars. He favored turning the auto lanes over to bicyclists and rerouting pedestrians to the sidewalks.
Nancy Coupal of Coupa Cafe has two locations — 538 Ramona St., where the street is closed, and 111 Lytton Ave., where it is open. She said her Lytton cafe has suffered from much lower sales than the Ramona location.
"I think the idea of open or closed, good or bad, is all relative," Coupal told council. "There is no real formula of what is harming business other than the pandemic and the fact that literally there are less people coming."
She said that if the city takes away restaurants from the streets, there will be even fewer people coming to downtown.
"People need a safe place to go, to hang out, to bring their families, to bring their children to walk safely, to not have cars zooming by as they dine," Coupal said. "Nobody likes that."
She said everybody has lost because of the pandemic and everybody is struggling just to stay in business.
Under the ordinance approved last night, the closures will continue until Sept. 30. Ramona Street will also remain closed at Hamilton Avenue.
Council's vote, coming at 12:21 a.m. today, was unanimous though Mayor Tom DuBois was absent.
Council members said they want to look at the idea of permanently closing the streets to cars — a topic for a future meeting.
Council also directed City Manager Ed Shikada to obtain design expertise from local architects and the Architectural Review Board about changes to California Avenue. Shikada was also told to evaluate whether the sales of restaurants increased or decreased on closed streets.
Council at a previous meeting decided to continue allowing restaurants to have "parklets" — restaurant tables in parking spaces — through Dec. 31.