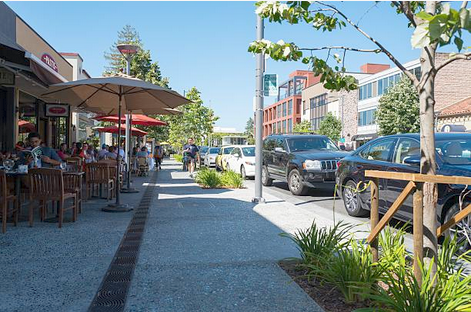 BY SARA TABIN
Daily Post Staff Writer
Palo Alto will close California Avenue to cars for the summer starting Thursday to give restaurants a chance to seat more people outside.
The plan would let restaurants serve customers while complying with COVID-19 social distancing guidelines. 
University Avenue might close in the coming weeks but City Manager Ed Shikada said the city needs more time to work out details there. He said the city might close the street for a day or two as a test before rolling out a long-term closure .
Councilwoman Liz Kniss came out in strong support of the California Avenue closure at Monday's council meeting and said she wants University Avenue closed as soon as possible.
"We're closing streets not just for the fun of it… we're closing them to help save businesses that are on those streets," she said. 
Many residents and business owners spoke out in support of the street closures.
Jessica Roth, owner of The Cobblery on California Ave., said closing the street will save small shops and restaurants. She asked council to allow outdoor retail in addition to dining to help her business and others like it stay alive.
Todd Burke, a California Avenue property owner and president of the Central Homeowner's Association, said the association is in support of the closures. He said the closure needs to happen now.
Steve Frankel, a resident who lives in Downtown North, said walking on University Avenue when businesses were closed was scary. He said University Ave. is too dense for parklets alone to help restaurants. He said the whole street should be open. Frankel said people want to be out and they will wear masks and be safe. He said closing the streets will let people get out while social distancing.
Beyond closing streets, the city has already started giving out permits for sidewalk seating and is building two parklets downtown.

Some people have raised concerns about the proposal.
Carol Scott, an Evergreen Park Neighborhood resident, said she wants to see more outreach from the city to neighborhoods near California Avenue. She said residents have asked the city questions about how traffic will be directed and where cars will park but have not gotten answers.
Downtown landlord John R. Shenk sent council a letter saying closing the streets could be bad for restaurants and retailers by discouraging downtown office workers from eating out. He said staying open to cars creates a vibrancy that is needed downtown.
Councilman Tom DuBois said closing the streets might not be enough to save local businesses. He said many are struggling with mortgages and rent and the city should look into relief programs.
This week marked the beginning of a return of outdoor dining under the county's newest stay at home order. The easing of restrictions drew people out on Monday night for dinner on the town.
Mark Garcia, who was eating at Sushirrito at 449 University, said he has missed the dining experience since the pandemic began. Garcia said he brought hand sanitizer with him out of an abundance of caution.
Several restaurant managers on University Ave. said that although customers are returning downtown, they think closing the street entirely will help attract more people.
Hasam Tosun of Cafe 220 said the restaurant would like to put more tables outside. Micheal Woodrich of Oren's Hummus said activity has picked up a lot since outdoor dining became legal but he thinks closing the street would create a nice ambiance.