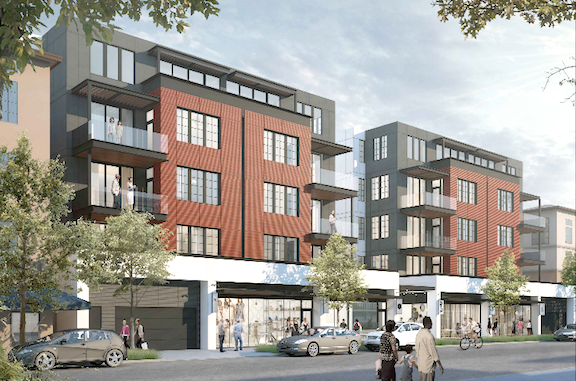 BY EMILY MIBACH
Daily Post Staff Writer
San Carlos City Council tonight (June 9) unanimously rejected a request by residents of a condo complex on Walnut Street to reconsider a recently approved housing project that will be the tallest in downtown.
The council, in rejecting the appeal, cited a state law that gives certain types of housing developments the right to have a higher density than normally allowed by city code.
The project in question is proposed for 626 Walnut St., which would be five stories and consist of 35 condos and two ground-floor retail spaces.
Residents at the condos at 618 Walnut St. say that because of the height and closeness of the new building. Some residents will lose up to 80% of the light they typically enjoy in their homes, according to a presentation from resident Jayne Tinney.
Tinney said that residents didn't necessarily want the building to be shrunk, but would appreciate a change or two to the building so residents could retain some light and fresh air.
Sean Gibson, a representative of San Mateo-based developer Veev said that his company over the past four years has tweaked the building a number of times to appease the next-door neighbors.
Councilwoman Laura Parmer-Lohan said the issue reminded her of when her family first moved to San Carlos, where the building next door was torn down and a much larger building replaced it. And while her family ultimately got used to the loss of sunlight and views, they became close with the family that moved in next door.
"I know that (the denial) is not welcome news to the residents at the (complex), but I hope over time the new neighbors will become friends," Parmer Lohan said.
Once completed the project will be 72 feet high, the tallest building downtown, but not the highest in the entire city. The Palo Alto Medical Foundation building and some others in the town's industrial area top 72 feet, said Principal Planner Lisa Costa Sanders.