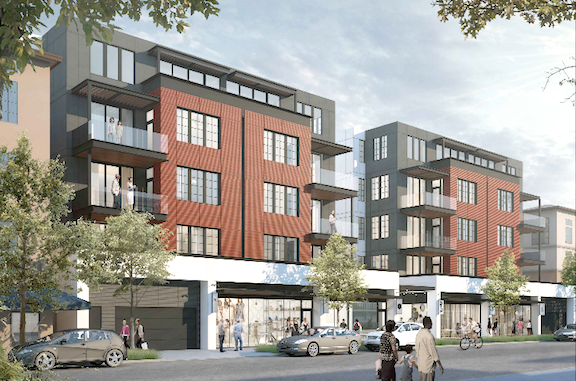 BY EMILY MIBACH
Daily Post Staff Writer
The San Carlos Planning Commission has approved plans for the tallest development in the city's downtown — a five-story, 35-condominium project across the street from Wheeler Plaza.
The project at 626 Walnut St. won unanimous approval Monday night from the commission.
The development, which will be 72 feet high, will be the tallest building downtown, but not the entire city. The Palo Alto Medical Foundation building and some others in the town's industrial area top 72 feet, said Principal Planner Lisa Costa Sanders.
Residents at a neighboring complex on Walnut have commented throughout the meetings on the project that they are worried they will lose their view because of the meeting's height.
On Monday, Amy Hathaway said she's concerned with the blank white wall that some of the neighboring apartments will have to look at out of their balcony. Hathaway asked that the project reduce the size of some of its condos, which are mostly three or four bedrooms, and be able to reduce the height of the project that way.
Commissioner Ellen Garvey said that she thinks the larger condos are in step with San Carlos, since families will be able to move into the building due to the larger units. Often condos are only large enough for one or two people.
The other commissioners noted that they were happy with some of the trade-offs that San Mateo-based developer Veev made with the neighbors.
A representative for Veev who spoke at the meeting said that the company will keep the neighbors requests in mind when landscaping the shared side of the building.
Commissioner Don Bradley also said there is balance to be made between adding housing to the city and a building's height. But, all in all, Bradley said that the building will be an asset to San Carlos' downtown.
Aside from the 35 condos, the project will also have space for two commercial spaces on the ground floor near the train station. Four of the 35 homes would be offered for sale at below-market-rate prices. Three of the condos would be sold to families who make 80% of the area median income, meaning a family of four would need an income of $129,150 to apply.
The other condo would be for someone who makes 120% of the area median income, which means a family of four would have to have an income of $164,750.