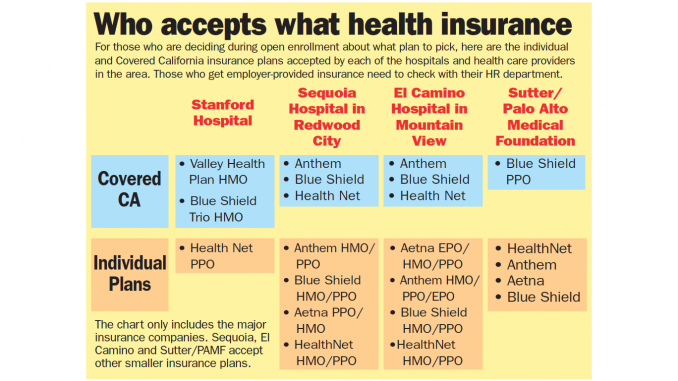 BY EMILY MIBACH
Daily Post Staff Writer
Californians whose health insurance is not provided by their employer or a family member have until Jan. 15 to decide if they want to change their current insurance plan — something folks who want to get treated at Stanford may want to look into.
Jan. 15 is the end of the open enrollment period, the window during which people can purchase health insurance for the coming year.
Stanford and all other medical providers enter into contracts with insurance carriers. So if your insurance has a contract with a hospital, then your deductibles will be much lower. Stanford only has an individual insurance contract with HealthNet, and you must have a HealthNet PPO, according to Stanford's FAQ's page.
If you are insured under Covered California, which helps subsidize health insurance for people who make under $50,000 a year, you can receive treatment at Stanford with a Blue Shield or Valley Health Plan HMO, according to Stanford's FAQs regarding insurance.
This means if someone has Anthem Blue Cross and goes to Stanford for a surgery, their deductible doubles, Allied Brokers' Chris Grammar explained.
Grammar gave the example of a $100,000 hip surgery. If you go to Stanford for a $100,000 hip surgery, you have to pay $15,100 out of pocket. But typically the insurance does not approve the $100,000 charge. This is because of what's called usual and customary rates, and it only pays in the neighborhood of $35,000 for your surgery.
The remaining $50,000 is the responsibility of the patient, so altogether the patient has to pay more like $65,000 for a $100,000 hip surgery.
If the patient went to a hospital where their insurance was accepted, then they would only have to pay the typical 20% copayment and pay up to their insurance's limit, usually in the neighborhood of $7,550, Grammar said. Once the patient pays to the $7,550 limit, their insurance pays the rest.
Some people are grandfathered in
However, if you got your individual insurance plan before March 2010, you are grandfathered into the system and don't necessarily have to change your insurance, Grammar said.
For example, Grammar has a 30-year-old Blue Shield plan and can still go to Stanford.
Additionally, for those who get insurance through their jobs, whether or not you are covered at hospitals such as Sequoia in Redwood City or Stanford is a different ballgame. Sometimes, hospitals will stop accepting an insurance for individuals, but still accept the same insurance through someone's job.
Palo Alto Medical Foundation and Mills-Peninsula Hospital in Burlingame only accept a Blue Shield PPO through Covered California.
Ask your doctor
Because of the intricacies of health insurance, broker Earl Dworkin, who has been in the health insurance business for over 40 years, says the best thing for folks to do is call up their physician and ask what types of individual plans they will accept, because things are constantly changing.
"Nothing is transparent, and everything is up in the air, and it's been that way for 100 years or more," Dworkin said. "It's all a gray area until you speak to providers."
For those who are a part of Kaiser's health plan, Kaiser is a closed system, meaning if you buy Kaiser insurance, you go to Kaiser hospitals or providers.
Open enrollment began on Oct. 15 and will last until Jan. 15. Coverage purchased between Oct. 15 and Dec. 15 will be effective Jan. 1 of the coming year, while coverage purchased between Dec. 16 and Jan. 15 will be effective no later than Feb. 1.