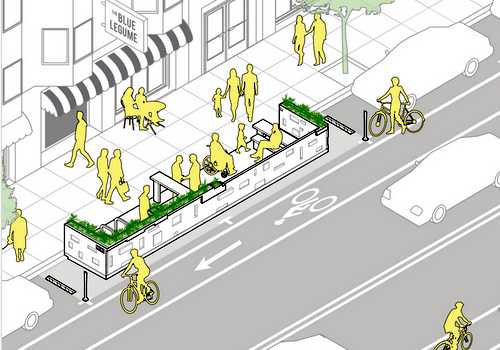 BY EMILY MIBACH
Daily Post Staff Writer
The concept of parklets — outdoor dining areas located on street parking spaces — is growing in San Carlos. Last night, City Council allowed another neighborhood to have them.
The council on Monday (Sept. 14) voted 4-1, with Mark Olbert dissenting, to allow parklets for restaurants in the Industrial Arts district, roughly bordered by Old Country Road and Industrial Road and Bing and American streets.
Previously, parklets were allowed only along certain blocks of Laurel Street in downtown.
Olbert voted against the plan because he said that the Industrial Arts area is different from downtown because it's a more industrial area. He said he has safety concerns about the parklets because large vehicles operate in the area.
Parklets consist of orange water barriers blocking off the traffic to protect restaurant customers inside the parklet.
Councilwoman Sara McDowell said that a winery in the Industrial Arts area only wants to use parklets on weekends since there are fewer trucks in the area then.
Councilman Adam Rak floated the idea of having the parklet open on the weekdays for employees of the area to have lunch or a cup of coffee on their breaks.
One resident, identified only as Will who spoke during the council's virtual meeting, said that it will be nice for the city to help businesses in other parts of town not go under due to the coronavirus shelter-in-place.
Jennifer Beck, speaking on behalf of the Industrial Arts Business Association, said parkets will be a good way to spruce up the area.
Council also agreed to consider permanent parklets, similar to what's happening in Palo Alto and Menlo Park.
Council will also decide at a future meeting when to end the closure of streets and parking areas that began as a way to let restaurants expand outdoors.
Councilwoman Laura Parmer-Lohan was interested in ending it on March 31, the date Belmont's closures will cease, or when the indoor dining restrictions are lifted.
City Attorney Greg Rubens said he wants to look into how long the city can legally block off the street to cars under the state's vehicle code.
The council also retroactively approved City Manager Jeff Maltbie's decision to have barriers placed along the parking spots outside of Broiler's Express and Boondocks Barber on Arroyo Street.