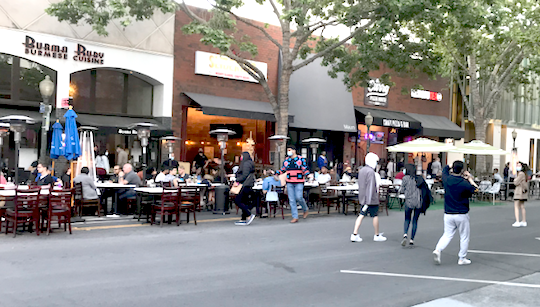 MONDAY, JUNE 7 — In a 4-3 vote, Palo Alto City Council tonight (June 7) approved an ordinance that allows restaurants to continue operating parklets in parking spaces, but no final decision has been made about when University and California avenues will reopen.
Council voted to allow restaurants to keep or open new parklets, defined as seating in parking spaces in front of their locations.
Voting in favor were Pat Burt, Alison Cormack, Eric Filseth and Greer Stone. Against were Lydia Kou, Greg Tanaka and Tom DuBois.
The matter before council was only on the parklets, not the reopening University and California avenues. That is scheduled to go to council on June 22.
DuBois said he voted against the parklet proposal because he was concerned that retail was recovering slower than in other cities.
On June 22, council will vote on City Manager Ed Shikada's proposal to:
• Reopen University Avenue and Ramona Street on July 6;
• Reopen California Avenue on Sept. 7.
Shikada said the city has learned that several retailers with stores in different Bay Area communities, as well as some restaurants, have seen sales rebound while sales in Palo Alto locations have not.
For example, b8ta, a electronics store at 375 University Ave., reported that customer traffic is down 92% in Palo Alto from a comparable month pre-Covid, while the rest of its retail stores are recovering 5-10% on a relative basis per week, Shikada said in his report.
He said the city has also heard from restaurateurs who would like the closures to continue. They say patrons aren't comfortable with dining indoors. Additionally, they have indicated limited indoor space and patronage indoors will lead to layoffs.
ORIGINAL STORY, May 26 — Palo Alto City Council is considering whether to reopen University and California avenues earlier than the previous Oct. 31 extension.
Portions of the two streets were closed to allow restaurants to operate outdoors since the county's Covid restrictions limited indoor dining.
City Manager Ed Shikada said May 24 that he will recommend council reopen University Avenue and Ramona Street on July 6. He's also recommending the reopening of California Avenue on Sept. 7.
In April, council decided to extend the closure through Halloween. But that was before it was clear that the Covid crisis was easing due to large number of people getting vaccinations.
The street closures have drawn a mixed reaction. Obviously, the restaurants that were allowed to expand were pleased by the closures. But the landlords weren't so happy.
Roxy Rapp, a major downtown landlord, told the Post in April that the street closures hurt businesses that don't have much outdoor space and those that aren't directly on the closed street.
"The city council has to realize that they're going to have a ton of vacancies," Rapp said.
In addition to closing portions of the streets, the city has also allowed restaurants to expand into curb-side parking spaces, creating what are called "parklets."
"I'm for the parklets, don't get me wrong. Give them the parklets," Rapp said. "But don't give them the … streets. It doesn't belong to them, it belongs to everybody."
Similarly, restaurateur Rob Fischer said the streets should be open to all.
"I think we're on the right road to reopening the economy but I think we've waited way too long, and I just don't see the reasoning behind the decisions to keep everything closed," Fischer said. "And for all those businesses who have had to close permanently, and not be able to reopen, I feel terrible for them. And I think that in order to give everybody a fighting chance, we need to reopen everything."