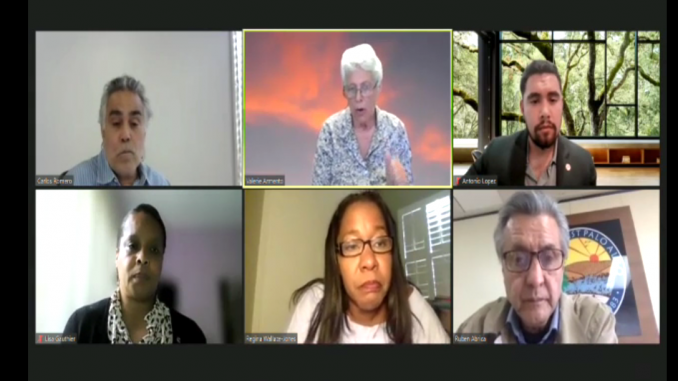 This story was originally printed in the May 21 Daily Post. To get all of the local news first, pick up the Post in the morning at 1,000 Mid-Peninsula locations.
BY EMILY MIBACH
Daily Post Staff Writer
The East Palo Alto Council met yesterday (May 20) for a tense meeting over an email from three council members requesting a closed-door meeting to discuss firing the current city attorney.
In the end, City Attorney Rafael Alvarado kept his job but there was some finger pointing among council members.
On Tuesday (May 18), Councilman Antonio Lopez sent an email to the rest of the council and City Manager Jaime Fontes requesting an emergency meeting to discuss firing Alvarado.
Lopez, in his email, included the names of councilwomen Lisa Gauthier and Regina Wallace-Jones, who had agreed to have the meeting.
This raised questions in the eyes of Mayor Carlos Romero and Councilman Ruben Abrica as to whether firing Alvarado was a foregone conclusion.
If so, then the other council members may have broken the Brown Act, the state's open meeting law. The Brown Act says no majority of the council can discuss city business unless it is during a council meeting.
In the public session prior to the closed meeting, Romero called the email and meeting "irresponsible, illegal and ill-advised." Abrica aired his grievances about how the meeting was called.
Abrica read a letter he wrote, largely questioning why the meeting was called.
Both Wallace-Jones and Gauthier said they agreed to have the meeting in order to find out why it was being called. This is allowable under the law, according to Acting City Attorney Valerie Armento.
Alvarado is on leave while dealing with family issues, Romero said during the meeting. Alvarado was paid $228,226 in 2019, according to the salary tracking site Transparent California. With benefits, his compensation was $290,925 that year, the most recent year for which figures were available.
Wallace-Jones, Gauthier and Lopez all called for civility among the council.
"I am in the public face every day and have no reason to hide," Wallace-Jones said, calling the accusations leveled against her and her colleagues "unfounded."
Lopez did not say why he requested the meeting.
Romero said he did not think the meeting was legal and did not participate in the closed session meeting. Abrica also did not participate in the closed meeting.
The remaining three council members who did attend the close session meeting did not vote to fire the attorney, and only had a "robust discussion," according to Armento.