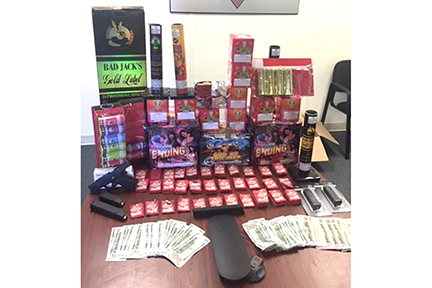 BY EMILY MIBACH
Daily Post Staff Writer
East Palo Alto Police seized 1,304 pounds of fireworks in the days leading up to Independence Day and on the day itself, said Police Chief Al Pardini.
Pardini told City Council on Tuesday that with the 1,304 pounds of fireworks off the streets, that's 25,164 explosions that residents did not have to endure.
Police arrested eight people for fireworks, four for threatening officers, seized two illegal guns, one M-80 and about seven pounds of marijuana.
Prior to Independence Day, Pardini put together a three-person team of two officers and one sergeant who would sit in unmarked patrol cars and observe where the most fireworks in town were going off and who was setting them off, Pardini said.
The team was able to get search warrants, and through conducting searches, confiscated 704 pounds of fireworks, preventing 13,550 discharges, Pardini said.
Four of the served search warrants enabled police to seize over 100 pounds of fireworks. During a search at a home on the 400 block of Wisteria Drive, police also found five pounds of marijuana, a lot of it in the form of edibles, packaged up, ready to be sold, Pardini said. Also at that house, 145 pounds of fireworks were confiscated.
At a home on the 2000 block of Fordham Street, 106 pounds of fireworks were taken, 190 pounds of fireworks were found at a home on the 2300 block of Dumbarton Avenue, and during a vehicle stop on the 1700 block of Bay Road, police uncovered 110 pounds of fireworks.
Arrested were: Manuel Gonzalez Barron, of Newark, Jose Alejandro Monterroso, Oliver Benedicto Montes, Miguel Angel Mojica, Juan Pablo Mendoza Zamora, Samasoni Lava Neti Cook, Calvin Brooks and Alexander Montes, all of East Palo Alto.
Since possession of fireworks is a misdemeanor, they were likely given tickets and not booked into jail. Chief Deputy District Attorney Al Serrato said that he is not aware of any criminal charges that have been filed against anyone related to fireworks.
Fireworks kept councilwoman up until 4 a.m.
But despite the police department's work, the council members still described Independence Day as horrible.
"July 4 was a nightmare in this city with people shooting off fireworks. I didn't go to sleep until about 4 a.m." said Councilwoman Lisa Gauthier. "I was so angry that if I had gone out and found those people shooting off the fireworks, it would have not been a pretty scene."
Vice Mayor Carlos Romero called Independence Day a "no-win situation," given the number of fireworks that went off, but thanked the chief for putting a dent in how many fireworks in the city that night.
Mayor Regina Wallace-Jones noted that while the 4th was bad, there are usually fireworks in the following days, which has not happened that much this year.
Menlo Park Fire Chief Harold Schapelhouman said that in his 40 years with the fire district, this year's Independence Day was the worst he's seen in terms of firework use. Menlo Fire also serves East Palo Alto, Atherton, North Fair Oaks and west Menlo Park.
House fire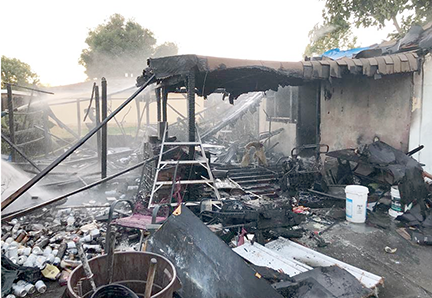 Schapelhouman said on Independence Day, firefighters put out several grass fires in East Palo Alto and at 7:50 p.m. responded to a call of a converted garage that caught on fire.
Fire Marshal Jon Johnston, who was on the scene, noted that there were used and unused fireworks laying around the structure, according to Schapelhouman. However, the residents said that fireworks did not cause the fire.
But no other cause for the fire could be found and the origin of the fire appears to be from a small burn hole in the roof, according to Schapelhouman.
On Thursday, a 20-year-old North Fair Oaks man was rushed to the hospital after a glass bottle with fireworks in it exploded near him, injuring his left eye and right hand.
Officials have said the proliferation of fireworks is because all of the major firework shows in the area have been canceled, and the unused fireworks have been sold to nonprofessionals.
Other reasons for the fireworks have been people trying to celebrate, or even let off steam because of the political climate and COVID-19.
Fireworks have been going off in the area for the past month, an issue that has occurred throughout the country. Locally, the East Palo Alto, Menlo Park and Palo Alto city councils had a joint meeting on June 29, where the need of a culture change was discussed, with officials pointing out that while this year was especially bad for fireworks, they are often a problem the week of Independence Day.