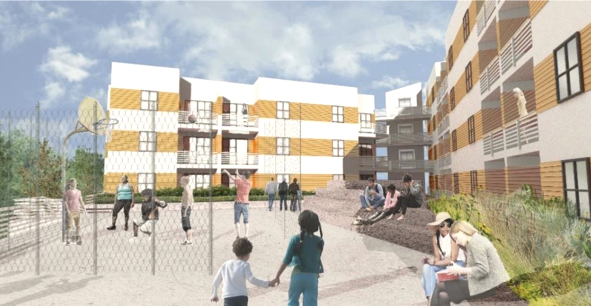 By the Daily Post staff
A $20 million state grant will renovate and expand a housing project in East Palo Alto and pay for commuter buses that will connect EPA with Redwood City and BART at San Bruno.
The funding consists of $13.5 million in loans for affordable housing development and $6.5 million for transit.
The grant will pay for 128 new units at the Light Tree Apartments, an aging public housing project at 1805 E. Bayshore Road that has a waiting list with 200 names on it, according to the complex's owner, the nonprofit Eden Housing. The new units will result in 91 families getting homes. Fourteen units will be set aside for the homeless, disabled and youth.
"The Light Tree Apartments, originally built in 1966, has been home to many generational cycles past and present. It is due a transformation and with these funds it will be one of the more modern housing facilities in the city," said Vice Mayor Regina Wallace-Jones.
The transit part of the grant includes $2.25 million for SamTrans to buy three electric buses for the new Highway 101 route. That comes to $750,000 a bus.
The bus will travel up and down Highway 101 in the new toll lanes county officials have been planning.
The bus will start in EPA and make stops in Redwood City, Redwood Shores, SFO and the BART station in San Bruno.
The grant is from the state's Strategic Growth Council, which doles out cap-and-trade funds, the money paid by polluters. The polluters pay the tax by raising the cost of consumer goods, such as gasoline. Cap-and-trade money is also funding high-speed rail.
The grant will also fund:
• Up to 650 SamTrans passes per year for three years for residents of the Light Tree Apartments.
• About 3,200 feet of sidewalks on Addison Street and Clarke Avenue in East Palo Alto.
• Up to 8.6 miles of bikeways in East Palo Alto.
• Improvements around bus stops in EPA.
The grant was submitted by the city of East Palo Alto, the San Mateo County Transit District (parent of SamTrans) and the nonprofits Eden Housing and EPA Can Do.
Only a fraction of the local news stories covered by the Daily Post appear on this website. To get all the local news, including many stories you can't find online, pick up the Post every morning at 1,000 Mid-Peninsula locations.