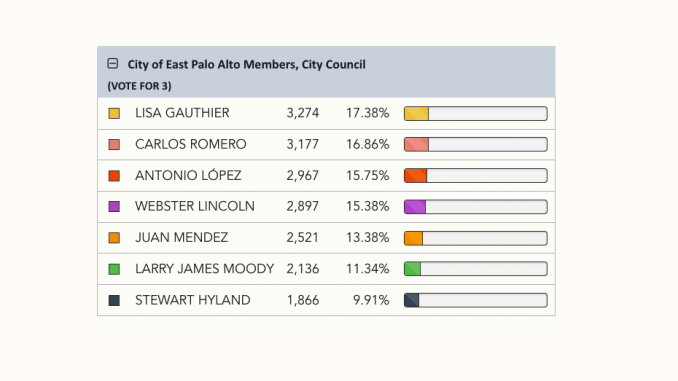 By the Daily Post staff
The results in the race for East Palo Alto City Council have flipped, with a different candidate poised to join the five-member council.
Stanford doctoral student Antonio Lopez is now 70 votes ahead of Webster Lincoln. Lincoln, who works at Genetech, is the son of Palo Alto Park Mutual Water Company manager Niambi Lincoln.
As of Friday, Lopez had 2,967 votes and Lincoln was at 2,897. They're battling it out for the third-place spot on council. The top two finishers at this point are incumbents Lisa Gauthier (3,274) and Carlos Romero (3,177).
Lopez has been steadily gaining votes as more ballots get counted by the elections office, and on Monday was just four votes away from Lincoln's vote total.
An unknown number ballots still need to be counted.
Lopez has said that he is running to protect the city's residents, especially those who live in low-income housing or have faced unemployment. His top priorities if elected include finding opportunities for youth, such as internships and more summer activities.
Redwood City Council
In other tight races in the county, the leaders' gaps widened.
In Redwood City, Lissette Espinoza-Garnica, a member of the Democratic Socialists of America, has a 210-vote lead over incumbent Janet Borgens for council District 3, which includes Friendly Acres.
Espinoza-Garnica has 1,343 votes, or 41.8% of the vote, compared to 1,128 votes, or 35.1%, for Borgens. A third candidate, Isabella Chu, has 740 votes, or 23.1%.
School races
In the race for the Sequoia Union High School District seat that spans from Farm Hill to Portola Valley, challenger Rich Ginn's lead also expanded. He is now 1,074 votes ahead of incumbent Georgia Jack. Ginn has 9,623 votes (37.8%) compared to 8,549 (33.6%) for Jack. A third candidate, Shamar Edwards, got 7,287 votes (28.6%).
In the Santa Clara County Board of Education Trustee Area 1 race, incumbent Grace Mah remains in the lead over Palo Alto School Board member Melissa Baten Caswell, 52,237 (52.0%) to 48,260 (28.0%).