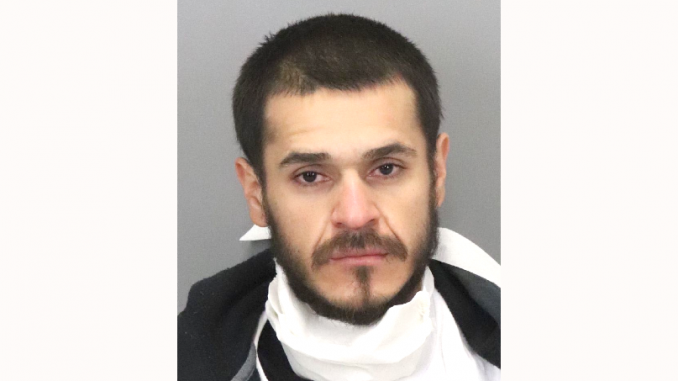 By the Daily Post staff
Palo Alto police, with the help of homeowners' surveillance cameras, have arrested one of two suspects in a string of home burglaries in the College Terrace neighborhood.
Gustavo Gomez Alvarado, 31, of San Jose, was arrested Wednesday while waiting for a bus in the 3000 block of Hansen Way. He is on probation for car theft and drug possession, police said. His alleged associate remains at large.
Police don't know if Alvarado is responsible for a series of nighttime burglaries in Palo Alto in October.
The College Terrace burglaries occurred in the early morning hours on Tuesday.
At 7:54 a.m. Tuesday, police got a call about a home burglary in the 2300 block of Cornell Street. A woman in her 30s discovered that two bikes had been stolen from her garage. She checked her home surveillance video and found that at 4:07 a.m., the two burglars tried unsuccessfully to pry open her garage door, and then they went to a side door of garage, broke in, and took two bicycles.
Police checked with neighbors and one of them had video showing the burglars arriving and leaving in a white pickup truck. Police also found the bikes abandoned on a sidewalk. One was taken from the Cornell Street home and the other was stolen from Stanford.
At 8:10 a.m. Tuesday, police got another call from a resident in the 2000 block of Amherst Street who reported the theft of a white GMC Sierra C1500 pickup. Police determined it was the pickup seen on the video.
On Wednesday, at 6:29 a.m., police were called by a resident in the 2300 block of Cornell Street, just down the street from the home burglarized the morning before. She said her burglar alarm went off and she saw a man in her backyard who fled.
Officers responded immediately and saw that the door to a rear house was open. The rear house was under construction at the time and not occupied, but it contained three bicycles and other items. Nothing was missing. Police said they believe the alarm caused the burglar to flee once he opened the door.
While searching the area for the burglar, an officer found the stolen GMC Sierra parked and unoccupied nearby in the 1300 block of California Avenue. The hood was warm, indicating it had been recently driven. Officers checked the truck for evidence and then returned it to its owners.
Officers checked nearby homes to ask for any additional video surveillance footage of the suspect and they found a neighbor's camera had captured the man leaving the area on a bicycle.
At about 7:20 a.m., officers located the suspect — later identified as Gomez Alvarado — sitting on a bus bench next to a bicycle in the 3000 block of Hansen Way, and detained him without incident. He matched the description of one of the suspects from the burglary on Tuesday morning as well, police said.
Police booked Gomez Alvarado into the Santa Clara County Main Jail on two counts of residential burglary (a felony), possession of stolen property (a felony, for the bicycle he was riding), probation violation (a felony), and three misdemeanors (possession of methamphetamine, narcotics paraphernalia, and burglary tools).
Anyone with information about these incidents is asked to call police at (650) 329-2413. Anonymous tips can be e-mailed to paloalto@tipnow.org or sent via text message or voice mail to (650) 383-8984.