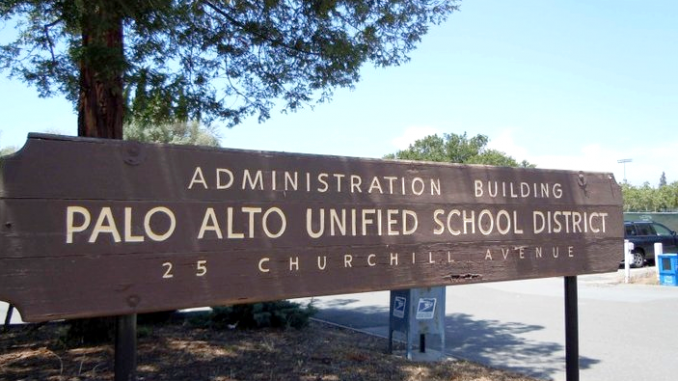 BY SARA TABIN
Daily Post Staff Writer
Principals of two Palo Alto elementary schools told the school board last night that they have improved test results for low-income and Hispanic students. Instead of being congratulated, they were met with skepticism by board members, who asked why the students were so far behind in the first place.
Eric Goddard, principal of Barron Park Elementary School, and Marcela Simoes de Carvalho, principal of Escondido Elementary School, told the board that their schools have raised test scores for low-income and Hispanic children. Their data showed that test scores were higher for low-income and Hispanic students in fourth-grade than they were in third-grade.
But Todd Collins, vice president of the board, said the students were too far behind in third-grade given that many of them have been in the district since kindergarten. He said the presentation by the two principals "buried the lede" by glossing over the fact that about 80% of low-income third-graders at Escondido aren't meeting English standards while about 70% aren't meeting standards for math testing.
More than 60% of low-income third-grade students aren't meeting English and math standards at Barron Park.
Collins said he wants data on students who are both low-income and Hispanic since the report yesterday presented the two categories separately.
Trustee Melissa Baten Caswell said the school board has been having the same conversations about the achievement gap since she was first elected 12 years ago. She said it's like "moonwalking" because every time Palo Alto seems to be making some improvements, scores drop again.
Overhauling the district's approach
Baten Caswell suggested that the district might need to overhaul its current strategy and research new methods that have worked for other school districts.
"You're trying so hard, I do want to celebrate your passion," she said to Goddard and Simoes de Carvalho. "I'm just asking if you've thought about sitting back and asking if we've gone about the whole thing wrong."
The two student representatives on the board critiqued the low sample numbers in the report. They pointed out that there are around 10 to 30 low-income or Hispanic students in each grade at the two schools, meaning the scores could be affected by just a couple of kids at each school.