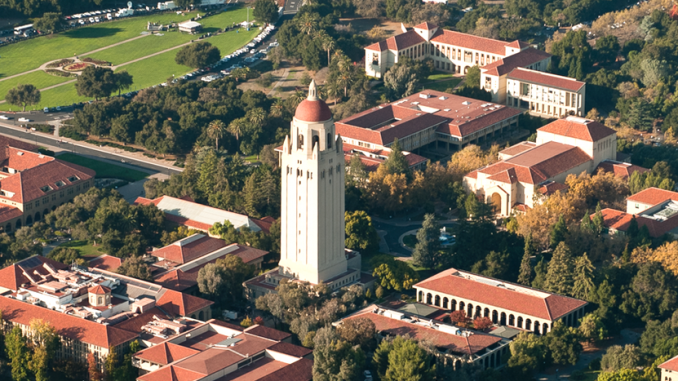 BY ALLISON LEVITSKY
Daily Post Staff Writer
New faculty and graduate student rental housing planned at Stanford could bring hundreds of new students to the Palo Alto school district without any additional tax revenue to pay for their educations, school board member Todd Collins said yesterday (July 16).
But Stanford says property taxes from its non-exempt commercial holdings, Stanford Research Park and Stanford Shopping Center, make up for the shortfall.
"All of a sudden, I just realized this is going to go from kind of unpleasant to unsustainable," Collins told the Post. "Something's got to give here because we can't accept hundreds or even more than 1,000 additional students without any additional revenue. That's going to affect the quality of our schools."
Palo Alto has a "basic aid" school district, meaning its funds come primarily from local property taxes, and it doesn't receive funding per student from the state. Because Stanford is a nonprofit institution, housing that it rents to faculty and students is exempt from property taxes. Other Stanford property, like Stanford Shopping Center and Stanford Research Park, does generate property tax for the school district.
The shopping center and research park generated $23.8 million, or about 10.4% of the district's operating revenue, in the last fiscal year, and will continue to increase, according to Stanford.
Today, more than 350 students who live in Stanford rental housing attend Palo Alto schools, for which Stanford generates about $450,000 for the school district per year, according to Collins' calculations of county assessor data.
It costs the school district about $19,200 to educate each student, which means Stanford property taxes from campus rental housing only cover 7% of those students' educations.
Shortfall predicted
Collins said this causes the district a $6.3 million annual shortfall that could go up to between $11.6 and $34 million, depending on how much tax-exempt housing Stanford builds.
Stanford's application to expand by 2.3 million square feet, which is pending approval from the Santa Clara County Board of Supervisors, proposes 550 apartments, which are expected to generate another 275 students, which would cost the school district an extra $5.3 million, according to Collins.
Other alternatives proposed by the county would bring enough housing to expect between 861 and 1,446 more students, which could bring the expense up to $27.8 million for the school district. Collins says the district faces a shortfall of up to $34 million to cover the costs of current and future students living in Stanford rental housing.
"At the very upper end, where we're talking about $30 million of additional cost — a teacher is about $100,000 per year. So that's 300 teachers. It boggles the mind," Collins said. "Three hundred teachers' worth of kids, and no revenue to hire those teachers. It's, like, what? How can this be?"
Stanford's response
Jean McCown, Stanford's associate vice president of government and community relations, disputed Collins' argument. She said that the ample property taxes that Stanford generates at its research park and shopping center more than make up for its tax-exempt housing.
Stanford's commercial lands have generated tax increases above annual Proposition 13 limits because of reassessments from property transfers and investments in new facilities, McCown wrote. These tax-generating properties have increased "far more" than the proportion of new schoolchildren living in tax-exempt housing.
"I don't know how he arrived at his cost numbers, but the essence of his claim is if additional housing is built on tax-exempt lands, Stanford will not be contributing an appropriate share financially to our schools," McCown wrote in an email to the Post. "That is simply not the case because the argument does not consider the full extent of Stanford's contributions to Palo Alto's schools."
University provided land for schools
McCown pointed out that Stanford provided the land to build Palo Alto and Gunn high schools and Escondido and Nixon elementary schools. Escondido and Nixon are both on Stanford land and serve students who live nearby.
"These were deeded through cooperative eminent domain proceedings beginning in the 1950s and are owned by the PAUSD as a result of that collaboration," McCown wrote.
The school district has never relied on Stanford lands for tax revenue, she added, noting that Stanford's academic land and student housing have been tax-exempt under the state Constitution since the early 20th century.
"The bottom line is that many PAUSD students who live in housing on Stanford land are supported by property tax revenues, just as is the case for Palo Alto residences," McCown wrote. "In the case of students from families who live in tax-exempt apartments on campus, such as the Escondido Village housing for graduate students, the sizable tax contribution from Stanford's commercial lands ($23 million) more than supports the cost of their enrollment in PAUSD and will continue to do so under Stanford's 2018 General Use Permit."
The school board is set to discuss its comments on Stanford's development permit application at a noon meeting today.