DAILY POST EDITORIAL
Santa Clara County's chief health officer, Dr. Sara Cody, has told the public schools they can't allow choir, band or cheerleading this fall. And it looks like she is planning to ban high school football too.
Cody, who is the un-elected lead official in the county's fight against the coronavirus, said she hasn't made a final decision about high school athletics. But a "guidance document" she released on Tuesday says, "Do not allow electives and extracurricular activities in which physical distancing (at least six feet) and face covering … cannot be maintained at all times."
How do you play football with physical distancing?
It appears she's decided to cancel football but didn't want to have a headline in the papers during the week saying that. So she's waiting to release that news on a Friday night or weekend, when fewer people are paying attention and the backlash won't be as strong.
It's obvious from her "guidance document" that football, where players come into contact with one another on every play, won't be happening if she has the final word.
Oddly, Stanford University, which has some of the world's top doctors on its faculty, announced yesterday it will play football this fall.
Health officials and politicians like to tell us that they make their decisions based on "data" and "science." They grab the moral high ground by saying they're trying to protect us. They say that so that people won't challenge them.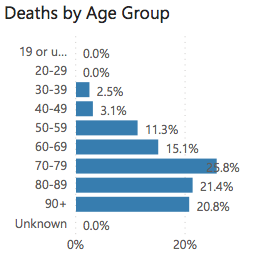 But the county health department's online COVID-19 dashboard shows the number of people killed by this virus in the county under the age of 30 is 0.0%. On the other hand, people 60 and over represented 82.9% of the COVID-19 deaths. So the data shows this isn't much of a problem for young people.
Mental health considerations
But canceling these extracurricular activities can cause real harm for youth. Adults forget that young people are also under stress during the shutdown order. Taking away activities that many high schoolers love will create unnecessary mental health problems.
And given Palo Alto's recent history of youth suicide, it would be best to give careful thought before negatively disrupting the lives of teens.
For many students, school sports are their lives. The only reason they work hard in academic classes is to maintain their athletic eligibility. And they're not just trying to set records on the playing field, but they've also developed close friendships with their teammates.
At a time when students have been isolated at home for months, sitting in the bleachers and rooting for their classmates on the field can be a unifying experience.
And we're going to cancel all of that?
Push back
Palo Alto school Superintendent Don Austin, fortunately, is going to push back, especially when it comes to ending choir, cheerleading and band. We hope other superintendents join him, and convince Dr. Cody to allow these activities.
If you're a parent or grandparent of a student athlete, band member, choir member or cheerleader, get on the phone today and let the county officials in San Jose know that you don't want these extracurriculars canceled.