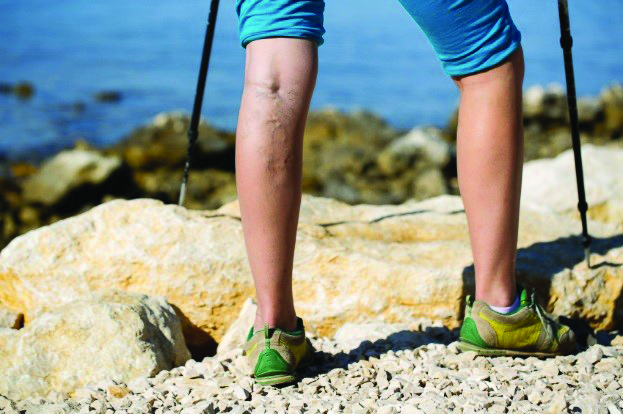 Do you frequently have tired, achy or swollen legs? Varicose veins? Get the treatment you need from Dr. Hardeep Ahluwalia at California Vein & Vascular Centers and get relief.
Treatments are quick and minimally invasive; there's no downtime or recovery period.
A board-certified vascular surgeon, Dr. Ahluwalia trained in vascular and endovascular surgery at Duke University and did an additional fellowship in the treatment of peripheral vascular disease at El Camino Hospital in Mountain View before opening his own practice in 2012. In addition to his Los Altos office, he also has locations in Los Gatos, Morgan Hill and Salinas.
Dr. Ahluwalia said many leg issues arise from peripheral arterial disease, a condition that happens when hardening of the arteries leads to insufficient blood flow in the legs. That causes cramps or other pain in the legs, and it can be insidious because that pain can lead to sufferers avoiding exercise, which then leads to more problems.
Smokers, diabetics and people with heart disease are particularly at risk for this vascular issue. But the good news is that the treatment is quick, easy and minimally invasive. With an instrument the size of an IV needle Dr. Ahluwalia clears blockages and establishes good healthy oxygen and nutrient flow to the legs.
Dr. Ahluwalia also sees many patients for varicose and spider veins, which are often seen in people who are on their feet all day at work. While many people believe that varicose veins are merely a cosmetic problem, Dr. Ahluwalia warns that they are a symptom of vascular issues that, left untreated, may lead to a host of other problems.
Even if your legs are swollen and pained from being on your feet all day, Dr. Ahluwalia has treatments that can relieve the pain and that also prevent or slow the development of varicose veins.
Dr. Ahluwalia sees every single patient and performs every procedure.
"We're a small boutique practice," he said. "We know everyone by first name, and everyone gets personalized service."
The treatments are all in-office and covered by most major insurance plans. Call (866) 344-1094 to schedule an appointment with California Vein & Vascular Centers or go to www.cvvcenters.com for more information. Se habla Español? Llama (650) 229-2223.