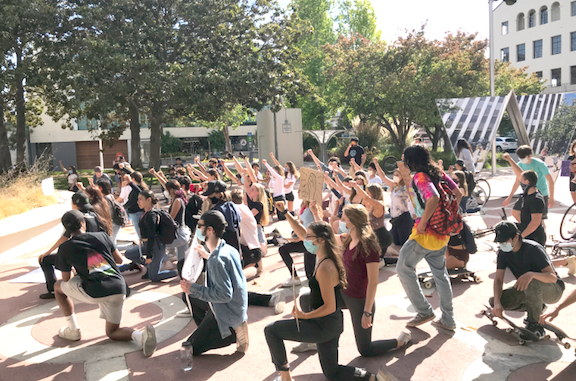 BY SARA TABIN
Daily Post Staff Writer
More than 100 Palo Alto teenagers crossed Highway 101 during a protest against police brutality against black people this afternoon.
The teens then marched down University Avenue shouting "black lives matter," "prosecute the police" and "no justice, no peace." They ended their protest in front of City Hall where they took a knee and had a moment of silence.
Palo Alto police blocked downtown streets as the teens marched.
Some kids on skateboards hung onto the back of one of the police cruisers. People in cars honked in support and waved as the teens passed.
Palo Alto High School student Paige Thomas said she found out about the protest from her brother who heard about it on social media. She said white people need to stand up for the black community.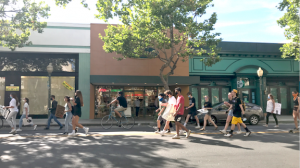 "This is for every African American affected by police brutality," said Emily Osagiede during a speech in front of City Hall.
Osagiede was one of the few adults in the protest. She said she saw the students marching and jumped in.
She said that she was proud to see the students taking a stand. Osagiede said Trayvon Martin was killed when she was a high schooler and back then her classmates didn't support her.
Osagiede, who is black, told the Post she first experienced police brutality when she was five and watched officers pull her father out of his car.
Miles Breem, a recent Paly graduate, said he heard about the protest on Instagram and came to show support as a white ally.