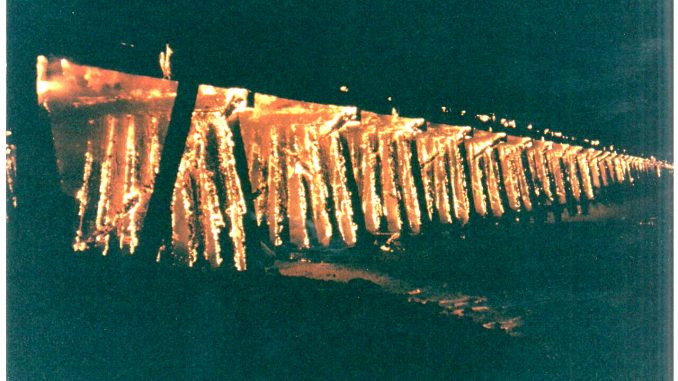 BY EMILY MIBACH
Daily Post Staff Writer
Facebook may be backing away from funding a study that would bring the Peninsula one step closer to seeing the Dumbarton Rail Corridor revitalized.
Facebook is "reassessing this long-term commitment," said a statement from Juan Salazar, Facebook's local policy and community engagement director. Facebook, along with SamTrans, which owns the long-defunct trestle and rail spur, and Plenary Group, an investment group specializing in public-private partnerships, joined forces in August 2018 to begin the long-awaited environmental impact study for the project.
Not taking the next step of conducting an environmental review would trigger a chain reaction that would freeze the long-sought-after project once again.
SamTrans Chief Communications Officer Seamus Murphy said that the environmental review needs to be completed in order for the project to be included in the region's transportation plan in order to secure funding. Getting the project to that point can't be done without money from the private sector, Murphy said.
Salazar said in his statement that the company is focusing its attention on "addressing the immediate needs of people in the community struggling with the economic impacts of the pandemic."
However, Facebook says it believes in the need for the project.
Redwood City leaders concerned
On Monday, Redwood City Mayor Diane Howard and Councilwoman Janet Borgens talked about sending a letter to Facebook in concert with San Mateo County leaders to urge Facebook to continue funding an environmental impact report for restoring the rail corridor.
Borgens said Monday (May 18) that the letter will remind Facebook of its commitment to further the project.
The corridor would run from Newark to Redwood City, across a rebuilt rail trestle. Earlier this year it was estimated that demolishing and reconstructing the trestle, along with any other construction costs would come in at $3 billion.
Murphy said that SamTrans is in "active discussions" with Facebook and continuing with the environmental review.
The rail bridge was built by Southern Pacific in 1910 and decommissioned in 1982.
In 1994, San Mateo County's Transportation Authority bought the Dumbarton rail route for $10 million to preserve the right-of-way for a future commuter train.
Since then, the idea of revitalizing the track has seen resurgences of popularity throughout the years.
But despite its popularity on the Peninsula, transit officials with the Metropolitan Transportation Commission (MTC) had previously deemed the project dead, and have diverted funds from the project to extend BART to San Jose.
In the 26 years since the county has bought the trestle, fires have ravaged the bridge, with the Menlo Park side burning in 1998 and the Fremont side burning down in June.