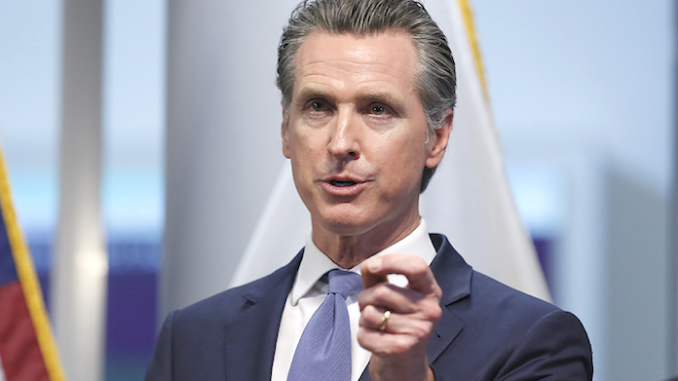 BY ELAINE GOODMAN
Daily Post Correspondent
State and county department orders for residents to shelter at home to curb the spread of the COVID-19 respiratory illness are fueling debate over whether the measures are constitutional.
States have police powers under the U.S. Constitution that give them authority to protect public health, safety, and welfare, scholars say. Still, sweeping measures that keep residents at home for extended periods could face legal challenges, some contend.
The ACLU of Northern California said it is monitoring the issue.
"The shelter-in-place orders that have been issued for the entire state of California are clearly an enormous and almost unprecedented curtailment of our individual civil liberties," the organization said in a statement. The group noted the measures' "overwhelming support" from public health experts "in support of our collective well-being."
Six Bay area counties — including Santa Clara and San Mateo — issued an order last week directing residents to shelter at home for three weeks starting March 17 as a way to slow the spread of the coronavirus. Exceptions are allowed for "essential" activities such as getting groceries or caring for a family member. And residents can go to work if their employer provides essential services.
The orders ask sheriffs and police departments to "ensure compliance" with the restrictions. Failure to comply would be a misdemeanor punishable by a fine, imprisonment or both, according to the orders.
Gov. Gavin Newsom on Thursday issued a stay-at-home order for residents, effective immediately and without a stated expiration date. It includes exceptions for residents to go out and get necessities such as food or prescriptions, and for those who work in one of 16 so-called critical sectors.
Newsom said that local officials may enforce their own public health orders that are stricter than the statewide order.
Constitutional right to assembly
The First Amendment of the U.S. Constitution guarantees freedom of religion, freedom of speech, freedom of the press, the right to assembly and the right to petition the government.
Even though the social distancing measures being imposed on the public would seem to impact the right to assembly, some are predicting that the measures would stand up in court.
James Hodge, an Arizona State University law professor, pointed to the government's broad powers during a public health crisis. Lawsuits would only have a chance of success if they're challenging "a truly egregious practice," Hodge said, according to an article in ABA Journal, an American Bar Association publication.
Another law school professor drew a distinction between the quarantine of an infected person and the widespread stay-at-home orders being issued in the Bay area. The latter will likely face a court challenge, said Lawrence Gostin, a professor who specializes in public health law at Georgetown University.
An "en masse" quarantine or a lockdown impinges on "the most fundamental constitutional rights and the right to freedom of movement, the right to freedom of travel," Gostin said in an interview with National Public Radio.
In contrast, a quarantine order for someone with COVID-19 who is a risk to the public would likely seem more justified, he said.
Enforcing quarantines to stop the spread of disease would likely be considered an appropriate use of a state's police powers, according to Damon Root, a senior editor who focuses on law, politics and history at Reason, a libertarian magazine.
The key questions are whether an order serves a genuine public health or safety purpose; and whether the order is the least restrictive way to accomplish that purpose, Root said in an article published last week.
No expiration date
Another issue is how long the order lasts.
"An emergency measure that was perfectly justifiable yesterday may become constitutionally suspect tomorrow," he wrote. "Things change and it is paramount to return to a normal footing as soon as the crisis has lessened or passed."
Harvard Law School Professor Glenn Cohen said there have been a number of cases on public health and states' police powers, but the cases are old and the law on the issue is "vague and uncertain."
Governments taken to court over their coronavirus orders would need to show a compelling reason for their action and that their measures were not overly broad, Cohen told Stat News, a medical news website.
Local officials said they aren't expecting to be issuing citations regarding the public health orders anytime soon. In a frequently asked questions article on the coronavirus, the city of Palo Alto said criminal enforcement of health orders would be an "absolute last resort" for the police department.