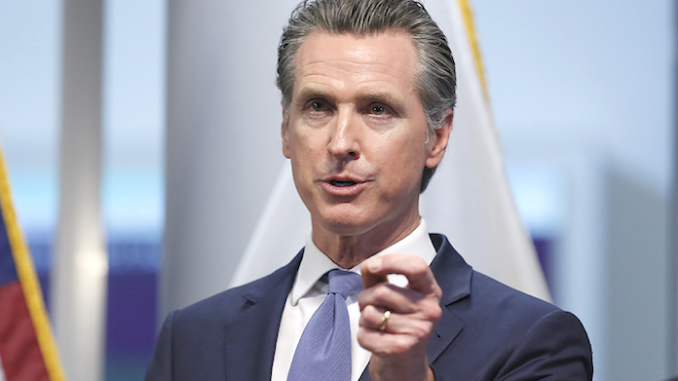 Gov. Gavin Newsom said today he plans to allow the state to reopen in phases and students could return to school in July.
Newsom made his announcement as a smattering of businesses began defying his shutdown order and an entire county, El Dorado, announced it was dropping all restrictions on its residents.
Public health officials have concluded that current indicators like coronavirus cases, hospitalizations and intensive care admittance show that the state may be able to relax and modify its shelter-in-place order for "low-risk" workplaces, including manufacturing facilities and some open spaces and parks.
Newsom said the state is framing a reopening of the economy in four phases. He said Phase 1 is planning and Phase 2 is reopening what he considers to be low-risk businesses and workplaces.
"Phase 2 is really the phase that is upon us, we believe, in the next few weeks and perhaps most important in terms of at least getting everyone's attention and focus so that we can prepare for it in real time," Newsom said.
Phase 3 calls for opening higher-risk businesses such as hair and nail salons, as other states began doing on Monday.
Phase 4 will be the resumption of large public events like concerts and sports.
He said Phase 4 is still months away and that it will require "significant, documented" herd immunity, a vaccine or both.
Restaurants?
Newsom wouldn't say when restaurants could resume dine-in services.
As for schools, Newsom said no official decisions have been made, but he acknowledged there have been "learning losses" as parents have sought to teach their kids from home since most schools and classrooms closed in mid-March to slow the spread of the coronavirus. School districts and families have struggled to adapt to at-home learning and the deficits have been even greater in homes without technology or where parents are essential workers who are not at home to do home-schooling, he said.
"That learning loss is very real," Newsom said. "If we can maybe start up the school year a little earlier, maybe we can help close that gap."
It was unclear if the classroom time between July and the normal start in late August would count toward the spring semester or the fall semester.
Schools would look radically different than before, said Sonia Angell, the state's public health director. But she and Newsom provided few details on what education would be like.
Newsom previously said schools may launch with staggered start times to limit the number of students in the school at one time and make changes to recess, lunch and other school gatherings that draw large groups of students together. And school districts will have leeway in implementing the changes, which will need to be worked out with the teachers' unions.
Newsom said the state electing to loosen its stay-at-home order will not impact local jurisdictions like some in the Bay Area that want to continue enforcing stricter public health guidelines.
One county to reopen on Thursday
El Dorado County announced today that when its stay-at-home expires on Thursday, it will not be renewing it, citing a low number of coronavirus cases, according to the Sacramento Bee.
"I am extremely pleased with how cooperative the vast majority of El Dorado County residents, businesses and California residents in general have been in complying with state and local health orders and directives," said county public health officer Dr. Nancy Williams. "This cooperation has resulted in very positive results, with only 43 confirmed and five active cases in the county."
Williams said, however, the county's order to restrict nonessential travel to the unincorporated portion of the Lake Tahoe Basin will remain in effect. The county's emergency ordinance allowing for fines to visitors at short-term rental housing will also stay in place, she said.
Williams also wrote that executives at the two main hospitals in the county "do not believe that a careful, phased-in approach to relaxing of stay-at-home orders would put them at undue risk."
Business owner to defy Newsom
Meanwhile, signs of civil disobedience are surfacing. The Sacramento Bee also reported today that a gym that operates in Sacramento, West Sacramento and Lodi is planning to open for business on Friday, despite Gov. Gavin Newsom's admonition that fitness clubs would be among the last allowed to reopen.
Sean Covell, who owns three Fitness System franchises, issued a message to members of his gyms Tuesday afternoon, saying "no city, county, or state official has the power to cancel the Constitution and the Bill of Rights of the United States."
Covell, a professional bodybuilder, then threatened to sue in federal court if the state and local governments attempt to "restrict the ability of our members and employees to work and exercise unencumbered by draconian restrictions imposed by the state or county agencies."
In the Bay Area, San Mateo, Santa Clara and four other counties on Monday announced plans to extend the stay-at-home order through May 31.
The purpose of the stay-at-home order, which has crushed small businesses and resulted in massive job losses, was to "flatten the curve." Now that the state has reached that goal, state health officials are looking at six additional factors to determine when the state can reopen, such as how many tests for coronavirus can be completed each day.
Newsom said California is averaging more than 20,000 tests per day, but the state's goal remains at 60,000 to 80,000 tests daily. In total, some 570,000 tests have been completed throughout the state. — From wire reports