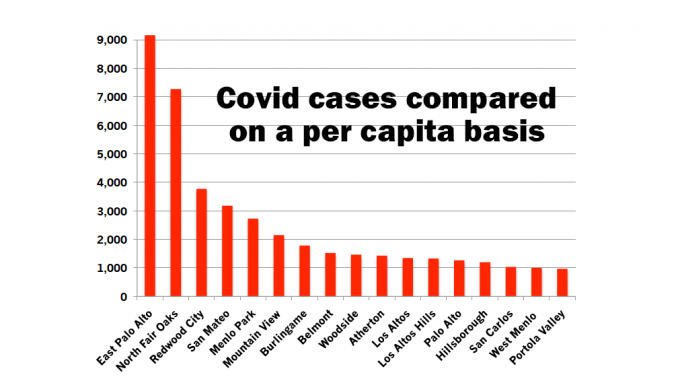 BY EMILY MIBACH
Daily Post Staff Writer
The East Palo Alto City Council on Wednesday will hear from county and Ravenswood Family Health Center officials about Covid vaccines, testing and contact tracing in town, which has among the highest rates of Covid in San Mateo County.
The city has had 5,877 cases per 10,000 over the past year, based on county information.
It is not known how many people have been killed by Covid in East Palo Alto.
The county's department of vital statistics would only release Covid death totals "deidentified zip code," meaning the last two digits of the zip code would be removed.
As of Jan. 14, Covid had killed 294 people in San Mateo County.
Of that number, 15, or 5%, were from zip codes starting with 943. The only community in San Mateo County that uses the 943 prefixes is East Palo Alto.
One reason EPA has more Covid cases is that more people live in a home than in neighboring communities like Atherton and Menlo Park.
Menlo Park, which has a similar population to East Palo Alto, has had 415 cases per 10,000 over the past year. The number of deaths in Menlo Park isn't available.
As of Sunday, 2,090 of East Palo Alto's approximately 30,000 residents have been vaccinated — one of the least vaccinated areas of the county.
However, not all of the city's 30,000 will be able to get vaccinated, since only people 16 years old can receive a vaccine when it's their turn. By comparison, 5,920 of Menlo Park's approximately 35,000 residents have been vaccinated.
The council and a panel of local Covid experts will talk via Zoom about vaccines, testing and contact tracing at 6 p.m., according to the meeting's brief agenda.
Among those who are scheduled to attend are Deputy County Manager Justin Mates, Ravenswood Family Health Center's CFO Gralyn Jacques and the clinic's Director of Clinical Operations Natalie Hodgen and County Health Chief of Vaccination Dr. Anand Chabra.
The county and Ravenswood will both make presentations to the council before the council begins asking the officials questions.
Residents will be able to ask their own questions during public comment.
The meeting can be accessed through Zoom at zoom.us/join or by calling 1-669-900-6833. The user ID for both is 910-4759-3567.