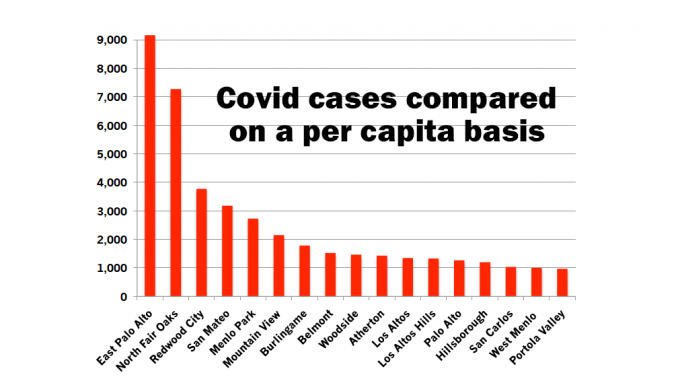 By the Daily Post staff
A city-by-city breakdown of Covid cases in the Post's circulation area shows that the communities suffering the most from the pandemic are East Palo Alto and North Fair Oaks.
Both cities have denser housing — often multiple families living in one home — and less access to health care since residents there are on the lower end of the economic ladder.
Since the populations of the 17 communities in the Post's circulation area vary, the way to compare them is by calculating the infections per 100,000 residents. That allows for an apples-to-apples comparison.
Using that apples-to-apples comparison, the contrasts are astounding. East Palo Alto has had 9,158 Covid cases per 100,000 compared to 1,265 for Palo Alto.
That's a ratio of 7 to 1.
On Dec. 23, Santa Clara County Supervisor Joe Simitian, a Palo Alto resident, called into the Palo Alto City Council and urged its members to spend $354,550 on a mobile Covid testing unit that would be used in East Palo Alto.
Council agreed unanimously with the request. The money is from the Community Development Block Grant funds the city gets from the federal government. There's no rule against Palo Alto using the money to help its neighbor.
Councilman Greg Tanaka wanted to know if the van would benefit Palo Alto's residents, to which Mayor Adrian Fine replied that because Palo Alto is more affluent, it could afford to help other cities deal with the Covid crisis.
Going back to the Covid statistics, North Fair Oaks, an unincorporated community between Atherton and Redwood City, has had 7,269 cases — nearly twice that of neighboring Redwood City at 2,768.
It should be noted that an infection doesn't mean the person became sick and was hospitalized. Studies have found that between 20% and 30% of people who test positive for Covid will remain symptom-free over time.
Here's the city-by-city breakdown as of today (Dec. 31).
| | | | |
| --- | --- | --- | --- |
| | | | Infections |
| | Population | Infections | per 100,000 |
| East Palo Alto | 30,499 | 2,793 | 9,158 |
| North Fair Oaks | 14,666 | 1,066 | 7,269 |
| Redwood City | 85,319 | 3,215 | 3,768 |
| San Mateo | 104,570 | 3,328 | 3,183 |
| Menlo Park | 35,790 | 976 | 2,727 |
| Mountain View | 80,993 | 1,740 | 2,148 |
| Burlingame | 30,317 | 540 | 1,781 |
| Belmont | 27,174 | 413 | 1,520 |
| Woodside | 5,615 | 82 | 1,460 |
| Atherton | 7,070 | 101 | 1,429 |
| Los Altos | 30,588 | 411 | 1,344 |
| Los Altos Hills | 8,517 | 113 | 1,327 |
| Palo Alto | 67,019 | 848 | 1,265 |
| Hillsborough | 11,769 | 141 | 1,198 |
| San Carlos | 39,864 | 412 | 1,034 |
| West Menlo | 3,600 | 36 | 1,000 |
| Portola Valley | 4,657 | 45 | 966 |
Sources:
• Santa Clara County case rates by city, https://www.sccgov.org/sites/covid19/Pages/dashboard-cases-by-zip-code-and-city.aspx
• San Mateo County cases by city, https://www.smchealth.org/data-dashboard/cases-city