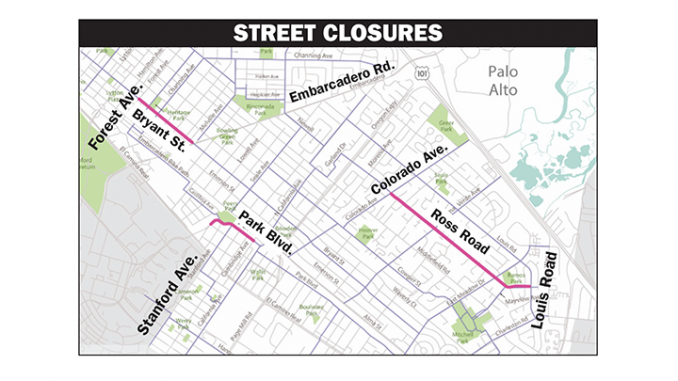 BY EMILY MIBACH
Daily Post Staff Writer
The city of Palo Alto has rolled out its plans to ban cut-through traffic on three neighborhood streets to allow pedestrians more space for social distancing.
Signs and cones have gone up on segments of Bryant Street, Park Boulevard and Ross Road in an attempt to keep cars from blazing down the streets. At Bryant and Forest Ave., a barrier saying "road closed to thru traffic" blocked about half of the road.
People who live on those streets are still able to come and go as they need to in their cars, and they can still get deliveries, according to the city.
Bryant Street will be closed from Embaradero to Forest Avenue, Park Boulevard will be closed from Birch Street to Cambridge Avenue and Ross Road will be closed from Colorado Avenue to Louis Road.
Those three stretches will be closed until the city decides otherwise, or the stay-at-home order ends, according to a notice from the city.
The idea behind the closures is to let residents use the street in order to maintain 6 feet of social distancing from others who are also using the sidewalk to minimize the chance people might spread the coronavirus to one another.
The city emphasizes in its notice about the streets that people are not to have group gatherings, picnics, hold sport events or set up tables or chairs in the street.
It is possible that more streets will be closed down. The city is asking residents to fill out an online survey about the street closures and wants ideas about where else to implement the program.
Palo Alto is not the only city to close streets down, Redwood City and San Mateo have already limited traffic on streets, while Menlo Park and San Carlos next week will be discussing the idea.