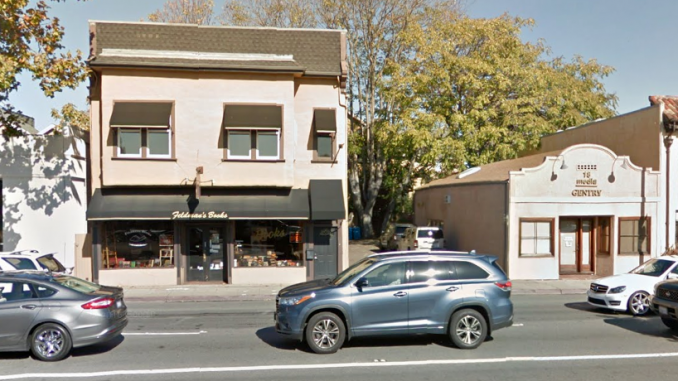 BY EMILY MIBACH
Daily Post Staff Writer
The Menlo Park Planning Commission tonight (Feb. 22) unanimously approved plans for nine apartments to replace Feldman's Books after supporters of the bookstore backed down from fighting the approval.
A three-story apartment building will replace the book store at 1170 El Camino and the building next door at 1162 El Camino.
The future of Feldman's as a business was not immediately known.
Developers Chase Rapp and Brady Fuerst said they offered owner Jack Feldman the chance to move the store to their nearby property at 556 Santa Cruz Ave. for below-market-rate rent, but he turned them down.
Adian Stone, who told the planning commission he was with Feldman during the meeting, said that the group in support of keeping Feldman's was withdrawing all appeals to the project, and requested two things from Rapp and Fuerst. The first was that the developers hold up their offer to move the avocado tree that's in the yard at the book store to Feldman's home. The second was that the developers would put a plaque or something similar on the side of the building to recognize the store and the building.
The city's historical association also backed the request for a plaque.
Over the past two years, there had been some discussion as to whether the two buildings that will be torn down are historic. Two reports, one by the city and the other commissioned by the developers, found that neither building was historic.
The commission voted 4-3 in January 2020 to not designate the building historic and held fast to that decision during its discussion tonight.
Commissioner John Doran said many of those who claimed the Feldman's building was historic were saying that because they wanted to save the bookstore.
"The main argument for this building seems to be that Mrs. Stanford had her laundry done there," Doran said. "If we want memories of Jane Stanford, then we can go a mile down the road and see things that are much more noteworthy."
Many of the commissioners noted that Feldman's has meant a lot to the community, with commission chair Henry Riggs noting that the project has weighed on the minds of the commission for the three years it's been in the city pipeline.
As for the project itself, three of the nine apartments will be offered at below-market rates, which led to some of the support for the project.
One of the apartments will be for tenants who earn 50% or under the area's median income, for a family of two they would earn $69,600 a year. The other two apartments will be rented out at 80% below the area's median income, which for a family of two would be $111,550.
Rapp told the commission that the project will likely begin construction around August and take 10 to 14 months to build.
ᐧ