BY SARA TABIN
Daily Post Staff Writer
Palo Alto businesses shut their doors and the city's business districts were eerily quiet Tuesday (March 17) during the first day of an order requiring people to stay a home.
The order, which took effect at midnight in six counties, says people are supposed to stay at home unless they have an "essential" reason for leaving the house like getting food or seeing a doctor. Local police are not actively enforcing the order at this point.
Town & Country Village Shopping Center, which typically bustles with traffic, was nearly empty at 3 p.m. Most of the shopping center's parking spots were open.
Clothing stores, craft stores and even some restaurants posted signs saying they will be closed for the rest of the month. The eateries that remain open have signs informing shoppers that they are take-out only.
The few people who were at Town & Country made beelines from their cars to the few open stores and back again. Trader Joe's had more shoppers than the rest of the center, but the panic-buying crowds that have made headlines in recent weeks were gone. The store has stopped giving out food and coffee samples and is making all shoppers enter through the same door.
Cooper Ganschow was posted outside the store to wipe down shopping carts and offer hand sanitizer to customers.
"We are on the front line trying to help people and do good things," he told the Post. "If people run out of food it doesn't help anyone."
Ganschow said more people were at the store on Monday when word of the stay home order made the news. He said people have calmed down now that they know grocery stores will stay open.
Shoppers are nervous
Shoppers at Trader Joe's said they are nervous about the coming months.
Ellen Rim said she is feeling a lot of uncertainty about when this will end and how things will look moving forward.
Sophie Matlof said she thinks the stay-home order is a good idea but said it will be difficult to go months without socializing with other people.
Andy Dral, who spoke to the Post outside Peet's Coffee, said he has mixed feelings about the order. He said he thinks it is a good public safety measure because the coronavirus is deadlier and more virulent than the flu. He pointed out that Italy is struggling with a shortage of ventilators and ICU space as their infections rise.
But Dral said he is also worried that the economic impacts of the virus and the shutdown will hurt people with low incomes the most.
"People with wealth and income saved up, they're always OK," he said.
Judie Cortes, who was getting into a car outside Peet's, told the Post she is trying to take things a day at a time and not panic.
Downtown Palo Alto also looked like a ghost town.  It was easy to find parking on normally-packed University Ave.
Whole Foods on Emerson Street had a dozen or so customers, but many aisles had already been cleared out. The store posted a sign in their frozen section telling customers to only take two bags of fruits or vegetables because of high demand.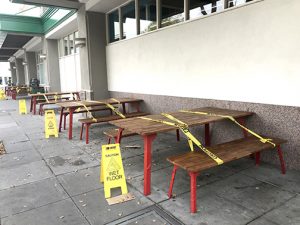 Heather Leitch was getting take-out food with her daughter Elina Smith-Leitch when they spoke to the Post. Smith-Leitch said it is weird that the whole town is so empty. She said she feels like the realization of what is happening hasn't sunk in. Leitch added that the virus hasn't really hit yet either. She said she expects an uptick in cases over the next week. She said she is worried about lower and middle-income families during the "inevitable economic downturn" that will result.
Woman fears for the elderly
Ana Koperniku said she is perfectly fine and can work from home, but she is worried about elderly people. "It's not a common flu," she said.
Liz Price told the Post that COVID-19 has exposed the problems with the US's health care system. She said we need to ramp up medical infrastructure and supplies and help people who are out of work. Price also made a pitch for Bernie Sanders, saying he is the best shot at a better system.
The hope of the shelter in place order is that if people limit contact with each other the disease will spread slower and critically ill people won't overrun hospital beds.
The CDC says the disease can spread when sick people cough or sneeze near other people. Everyone is supposed to stay at least six feet away from other people if possible. It can also spread when someone touches a surface that has the virus on it and then touches their own mouth or eyes.
There have been five deaths from COVID-19 in Santa Clara County. There are 155 known patients in the county, 56 of whom are hospitalized. But the number with COVID-19 is likely much higher since testing is not widely accessible and people can be infected without showing symptoms. There are 64 known cases and one death in San Mateo County.
Palo Alto City Council ratified a city-wide emergency proclamation on Monday. The proclamation gives the city more options including getting funding and exercising emergency police powers like curfews or suspending fines. City Spokeswoman Meghan Horrigan-Taylor said the city is focused less on special police powers and more on general public safety and future reimbursements from the state and federal governments.