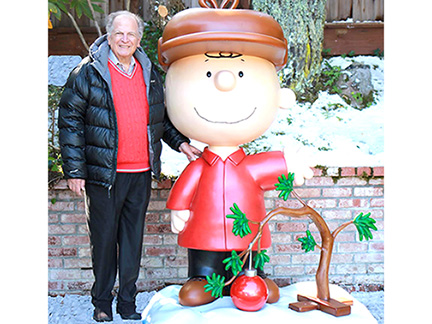 BY EMILY MIBACH
Daily Post Staff Writer
The man who produced more than 50 Peanuts specials including "A Charlie Brown Christmas" and wrote the lyrics to the song "Christmastime is Here," has died at his Hillsborough home, his family said Thursday (Dec. 26).
Lee Mendelson, 86, died on Christmas Day after a long battle with lung cancer.
Mendelson's sons, Jason and Glenn, said that their father always talked about the serendipitous nature of the iconic Peanuts Christmas special and his career path.
"It wasn't great for us, but to have him pass on Christmas really ties into his history and legacy," Jason Mendelson said.
Mendelson broke into the TV business with a documentary that followed Giant's legend Willie Mays through the 1963 season.
A few weeks later, while reading the Peanuts comic strip in a newspaper, Mendelson thought "you've just done the world's greatest baseball player, now you should do the world's worst baseball player, Charlie Brown," he told the Stanford Magazine in 1997.
The call from Coca-Cola
Peanuts creator Charles Schulz, who lived in Santa Rosa, was a fan of Mendelson's Mays documentary, and readily agreed to being the subject of Mendelson's next documentary — but it never aired, waylaid by a call Mendelson got from Coca-Cola.
The advertising agency representing Coca-Cola called Mendelson as he was working on the Charlie Brown and Charles Schulz documentary, and asked if he had ever thought of doing a Christmas show.
After the call, Mendelson called Schulz, and they put together one of the most beloved Christmas specials.
Assembled a team for the specials
Mendelson hired San Francisco composer Vince Guaraldi to write music for the special. The composer had come to his attention when he heard "Cast Your Fate to the Wind" on the radio while driving across the Golden Gate Bridge. Schulz brought animator Bill Melendez to the special, creating a trio of collaborators who would work together for the next 40 years bringing many Peanuts specials to life, including "It's the Great Pumpkin Charlie Brown," "This is America, Charlie Brown" and "A Charlie Brown Thanksgiving."
Six of Mendelson's 12 Emmys are from Peanuts productions, including in 2015 for the program "It's Your 50th Christmas, Charlie Brown!"
Mendelson also brought comic-strip characters Cathy and Garfield to TV sets across the nation. He worked with Garfield creator Jim Davis on the 121-episode series centered around the lethargic and lasagna-loving cat.
Aside from working with cartoon stars, Mendelson worked with stars such as Paul Newman, Gene Kelly, Lucille Ball, Bing Crosby, Muhammand Ali, Whoopi Goldberg and Carl Reiner.
Mendelson co-created the Saturday morning show "Hot Dog," a children's documentary series with hosts Jo Anne Worley, Jonathan Winters and Woody Allen. Mendelson also worked with John Steinbeck and Henry Fonda twice to create TV specials based on the novels "Travels with Charley" and "America and Americans."
A product of San Mateo schools
Mendelson was born in San Francisco, and as a child moved to San Mateo and later Hillsborough, attending Borel Middle School and San Mateo High School. He graduated from Stanford in 1954 with a degree in English. Mendelson stayed involved with his high school and university, even returning to teach a graduate course in the Stanford film department in the 1990s.
After graduating from Stanford, Mendelson joined the Air Force as a navigator and became involved with radio and television while serving. Mendelson then worked for his father's produce business before getting a job in 1961 producing short public service announcements for KPIX Channel 5.
During his time at KPIX, Mendelson produced a documentary called the "Innocent Fair," about the 1915 San Francisco World Fair, for which he won a Peabody award.
In 1963, he started his production company in Burlingame. In his 60s and 70s, Mendelson churned out one documentary and animated special a year.
Aside from work, Mendelson greatly enjoyed baseball and was a lifelong Giants fan. He played golf and tennis and loved traveling with his wife, Ploenta.
Mendelson leaves behind his wife, their four children, Glenn (Kristine), Lynda, Jason (Megan) and Sean (Katie), his stepson Ken and eight grandchildren.
Services are to be announced.