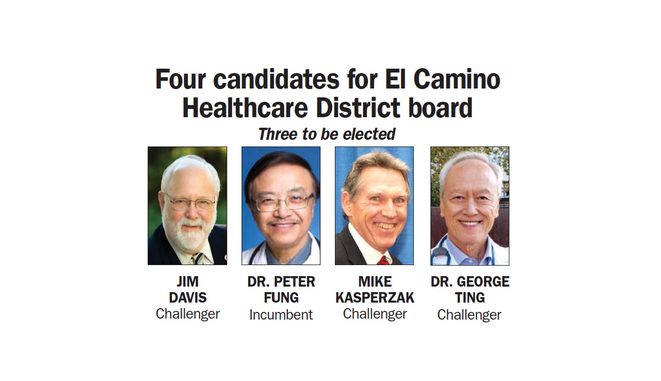 Editor's note: At the end are the comments of candidate Jim Davis, who wasn't able to respond before the Post's deadline for the printed version of this story on Thursday. His comments were printed in Saturday's edition of the Post, however.
BY ALLISON LEVITSKY
Daily Post Staff Writer
In the race for three seats on the El Camino Healthcare District board, a doctor at El Camino Hospital is running because he wants to reduce what he says is a high turnover of independent doctors at the Mountain View hospital.
Dr. George Ting, 71, of Los Altos Hills, who has been a kidney doctor at El Camino Hospital since 1977, said the reimbursement rates from health insurance companies are too low. Each hospital negotiates contracts with health insurance companies that determine how much money doctors are paid. Also he said "poor practice management" — that is, the business services the hospital provides to doctors — are poor and can be improved. These steps, he said, will stem turnover.
Ting is running against former Mountain View Mayor Mike Kasperzak, 65, and Dr. Peter Fung, 70, of Los Altos Hills, who is seeking his second term. A fourth candidate, former Sunnyvale Councilman Jim Davis, did not return multiple requests for comment and does not appear to be running a campaign online.
In this race, the top two vote-getters will four-year seats and the third-place candidate will serve for two years.
The district owns El Camino Hospital on Grant Road in Mountain View and is supported by $7 million annually in property taxes from residents in much of Mountain View, Los Altos, Los Altos Hills and Sunnyvale with small parts of Palo Alto, Santa Clara and Cupertino.
El Camino also owns a hospital in Los Gatos and in 2016, bought land in San Jose for a third campus. These buildings were bought with non-tax dollars and are owned by the hospital, not the health care district. The hospital has its own board of directors that oversees hospital operations.
Ting served as the hospital's chief of medicine in 1985, chief of staff in 1994 and sat on several executive strategic planning committees from 1985 to 2009. He taught medicine at Stanford from 1977 to 2009 and continues there as an adjunct professor. He also served as the CEO of the Japanese real estate company Tokei KK from 2007 to 2013.
Ting said he decided to run for the board to guide the district through what he sees as its greatest challenge now: its strategy with independent physicians.
As an independent hospital, El Camino relies on doctors for patient referral and management. If the hospital had its own group of physicians, it could remain independent indefinitely, Ting said.
"I believe the board's solution to this problem is expensive, flawed and will fail, and before proceeding further, I would like its merits carefully and objectively reviewed," Ting said. "Every CEO in the past 20 years has struggled with this issue, and I have participated in each strategic planning effort, task force or ad hoc committee to address this."
Ting said that the current board, including incumbent Peter Fung, is promoting a plan to develop a hospital foundation to hire its own group of non-aligned doctors.
Ting believes this plan will fail because it doesn't address the poor reimbursement rates from insurance companies that are causing independent physicians to dwindle. Doctors at Palo Alto Medical Foundation and Stanford get about twice the rates El Camino doctors get for the same work, Ting said.
Instead, Ting wants to partner with an existing foundation at a hospital outside the area, such as John Muir Health or the Washington Township Medical Foundation.
"They already have high reimbursement rates, and would welcome ECH physicians for their high quality, and wider geographical footprint which will garner them even better reimbursement rates in the future," Ting said.
Ting claims that the hospital isn't pursuing this plan now because the board believes it has the right answer, and because it needs to retain control.
Neurologist seeks re-election
Incumbent Dr. Peter Fung has been an independent neurologist for 40 years, specializing in stroke and vascular neurology.
He was the former medical director of the El Camino Hospital Stroke Program and co-founded the Chinese Health Initiative, which aims to reduce the disparity of care of the Bay Area's Chinese population.
Fung chairs the Governance Board Advisory Committee and works with hospital administrators on the Quality Board Advisory Committee.
Under Fung, the district increased its spending this year on its Healthy Body, Healthy Mind and Healthy Community programs to $6.9 million per year.
The program provides grants and sponsorships to health programs serving low-income and at-risk residents.
El Camino was also awarded a Certificate of Transparency by the state Special District Association during Fung's term.
Fung touted his leadership in getting the hospital to be ranked by U.S. News as one of the top 29 hospitals of more than 4,500 hospitals nationwide, with top scores in patient, doctor and employee satisfaction.
Kasperzak seeks board seat
Mike Kasperzak first ran for the El Camino board in 1984, and has been involved with the El Camino Hospital Foundation since 2006. He's served on a number of committees with the foundation and hospital.
"One of my main reasons for running is that while the main campus is in Mountain View, there are no district directors from Mountain View, and there haven't been for several years," Kasperzak said. "While there are no geographic districts, the people of Mountain View experience the trials and tribulations of being the home of the hospital and deserve to have representation on the board."
Kasperzak served on Mountain View City Council for 16 years, including two years as mayor. He's worked as a professional mediator for more than 25 years and as a litigation defense attorney for 11.
He currently works as a strategic policy consultant and serves on the board of advisors of two startups and on a number of nonprofit boards.
Private takeover of hospital
In the 1990s, Ting served on the strategic alliance task force that recommended taking the hospital private. He was also chief of staff and encouraged medical employees to accept the plan.
"I believe the underlying premise was sound: to create a permanent partnership between the hospital and its own physicians," Ting said. "Unfortunately, the interests of the district were not adequately protected, leading to the palace revolt."
Ting believes the strategy could have been successful with a publicly elected board. Fung recalled that the hospital's privatization led to "turmoil, complaints and negative press with deteriorated patient care."
"El Camino Healthcare finances and operations worsened. This is what happens when the number one concern is profit," Fung said. "Thanks to the district board, the hospital returned to district control and public oversight."
All three candidates said they would oppose any move to merge or sell out to another company like Sutter.
Fung said El Camino would probably have to do this if it doesn't expand to San Jose and Los Gatos.
"This would not happen on my watch," Fung said. "I will see to it that we remain an innovative, quality-driven, publicly accountable and locally controlled comprehensive health care organization."
Ting said merging or selling out would be "the ultimate failure" and would cost district residents an asset they paid for for more than 50 years.
Ex-councilman wants to bring financial transparency to district
UPDATE, the following was printed in Saturday's Post: Former Sunnyvale Councilman Jim Davis says he's seeking to bring greater fiscal transparency to the El Camino Healthcare District, where he's running for one of three open seats on the board of directors.
The top two vote-getters will win four-year seats and the third-place candidate will serve for two years.
Davis, 66, served as a Sunnyvale police officer for 38 years and on City Council for five.
"The operations of the district, the hospital corporation, the hospital foundation, the El Camino Surgery Center and the Silicon Valley Medical Development LLC, are so closely intertwined that it is hard to tell where money is going or coming from," Davis said.
A 2012 audit advised that the district should be dissolved if it doesn't improve its accountability and transparency. The audit by Harvey M. Rose Associates suggested that the El Camino Healthcare District and El Camino Hospital were "almost indistinguishable" entities, questioned whether the district was providing enough benefits to taxpayers and to what extent the district's public funds are separate from the hospital's corporate funds.
Davis said greater transparency would ensure that the health care district's assets are protected if the hospital's Los Gatos and San Jose campuses fail. Unlike his opponents, former Mountain View Mayor Mike Kasperzak and El Camino physicians Peter Fung and George Ting, Davis doesn't see a problem with selling or merging the hospital to another company like Sutter.
"It just needs to know that the land and buildings within the district are not a part of the sale," Davis said.