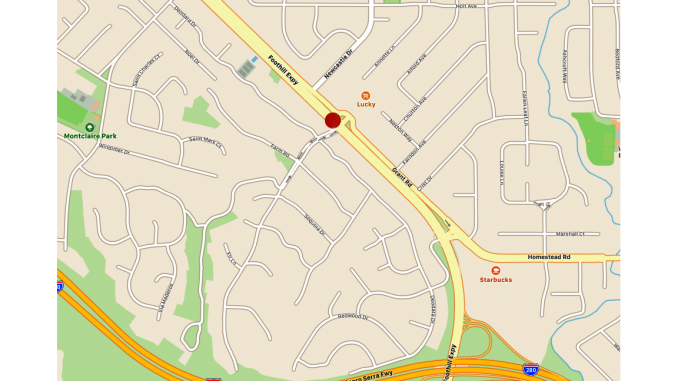 By the Daily Post staff
Traffic came to a standstill on Foothill Expressway during the afternoon rush hour yesterday (Oct. 17), and thousands of residents lost power, when a car flipped over and slammed into a power pole in Los Altos.
After the car hit the power pole, live wires to fell onto Foothill Expressway at Arboretum Drive near Lucky's supermarket in Los Altos.
The accident cut power to 3,635 people at 2:38 p.m., according to PG&E spokeswoman Karli Hernandez. At 9:30 p.m., Hernandez said 178 customers still didn't have power and the company was estimating that the power would be off until 4 a.m.
All four traffic lanes going in both directions on Foothill Expressway between Arboretum and Homestead Road were shut down after the accident because of the wires. Workers from PG&E were called to the scene to repair the wires. The road was not re-opened as of 6:25 p.m.
The driver had minor injuries from the accident, according to police. Police did not say why the car overturned.